How Media Buying Agencies Can Leverage Tunnl's Data for Better Audience Targeting and Campaign Results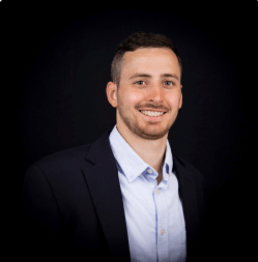 Teddy joined Tunnl in January of 2020 and is currently the Senior Director of Account Management for Agencies.
Agencies have a lot of people to please. When clients come to you, it's because they want higher returns on their ad spend and more qualified leads in their pipeline. But media fragmentation is making it harder than ever to reach the right people, and even when you can, more than one-third of internet users employ ad blockers to thwart your efforts. Meanwhile, media buying industry profits are expected to decrease despite improved revenue, your budget is shrinking, and expectations are through the roof.
Strategic audience targeting is your ticket to overcoming the odds, but how can you guarantee best-in-class results to every client that comes through your agency?
If you have clients counting on you, you need accurate and easily accessible audience data that can be applied seamlessly to the different campaigns you're pitching and planning. And you need tools for analysis, planning, and measurement. But you don't need a more complicated tech stack.
Seem like a lot to ask for? Tunnl doesn't think so.
Agencies helped inspire our audience intelligence platform that provides 24/7 access to an end-to-end suite of audience targeting solutions from insights to measurement. Our audience data could be exactly what your agency needs to maximize your impact, satisfy your existing clients, and attract a sustainable pipeline of new business.
There are 5 key contributions Tunnl's data can make to your agency. Let's see if they align with your goals.
5 Benefits of Leveraging Tunnl's Audience Data at Your Media Buying Agency
Tunnl's superior audience data and always-on tools for audience building, media planning optimization, and campaign measurement enable your team to deliver more accurate ad targeting and thus better campaign performance for your clients. Here's exactly how our audience intelligence platform empowers you to offer best-in-class service and results.
1. Hone in on Their Audience
You know who you need to reach, but you're not sure how to do it. There are costly missteps and several iterations standing between you and well-targeted campaign. But do you have the time and budget to waste on uncertainty? Will your clients tolerate the trial and error?
Guessing is off the menu when you let Tunnl audience data guide your targeting.
Backed by the industry's best data, a proprietary, AI-powered audience modeling process, and refined by committed data analysts, Tunnl's three audience types offer superior campaign targeting to agencies and their clients.
Our hundreds of prebuilt audiences enable instant issue-based targeting for your campaigns. Because they are based on timely issues like ESG, tax and financial legislation, and criminal justice reform, our prebuilt audiences connect your campaigns directly to people who care about the issues you're campaigning on. Premium prebuilt audiences, like our U.S. Policy Opinion Makers audience - that includes members of Congress, the Executive Branch, news media, and trade associations - connect you to exclusive, hard-to-reach people influencing our nation.
While prebuilt audiences are an excellent way to hit the ground running with immediate, issue-based audience targeting, the ultimate solution for serious audience-based media buyers is a Tunnl custom audience. Surveyed and modeled around the issues you're campaigning on, custom audiences are exclusive to you and your clients. But because of their specificity and bespoke nature, they take time to create; you'll need more runway to incorporate a custom audience into your campaigns than you would with a prebuilt audience.
There is an interim solution, though.
Running more nuanced campaigns but don't have time to wait for a custom audience? The Audience Builder in Tunnl Plus and Tunnl Premium enables you to overlap, combine, or exclude multiple prebuilt issue- or interest-based audiences to instantly generate new audiences you can use and analyze for your campaigns.
You can buy against those audiences anywhere you manage media buys, but there's a lot more you can learn about them in the Tunnl platform before you activate an audience in your campaign.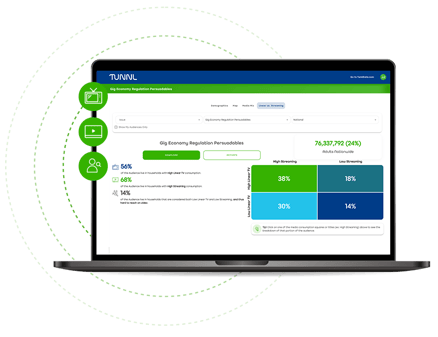 Media mixes, for example, give you insight into where a target audience consumes media and how often, compared to the national average, giving you a proverbial treasure map to the ideal ad placements.
TV advertisers will enjoy Tunnl Plus, too. The linear TV vs. streaming TV consumption matrix in this platform tier clearly defines your audience's preference for streaming or linear TV. Tunnl Plus's Cable Ranker and local TV ratings take that knowledge a step further by showing audience-specific ratings for local TV programs across all 210 media markets.
Audience insights like these are what drive the success of your audience targeting because they add decision intelligence to your bidding and buying process. And they come standard with every Tunnl audience, whether that's one of our hundreds of prebuilt audiences (including the premium ones like the U.S. Policy Opinion Makers audience) or a custom audience we build unique to your client's needs.
Deeper knowledge of your client's target audience translates to smarter, more effective campaigns - and can help you close the deal with apprehensive stakeholders.
2. Create More Compelling Pitches
Clients ask questions. They want to know why ads on one platform work better than another. They want to know how you'll break up their budget to get the best results. Above all else, they want to know that they can trust you to make the best decisions on behalf of their business.
And with the right audience intelligence platform, that's easy to prove.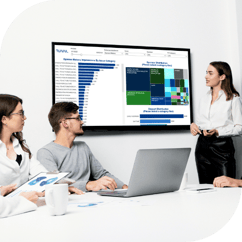 The audience insights you see in the Tunnl platform can instantly become part of your campaign pitch. The download feature allows media planners to pull professional data visualizations like audience counts, media mix graphs, cable channel rankings, and other valuable insights into your pitch deck to show just how knowledgeable you are about the audience your client needs to reach. These easy-to-interpret charts and graphs make data visualization simpler and more engaging than a bulleted list of stats and prove your professionalism for a more convincing pitch.
When you use Tunnl insights to inform your presentations, you enter the pitch with confident projections and a clear plan - not guesses and promises. You demonstrate data you know you can act on for campaigns that deliver.
You'll enter every pitch with a data-backed edge that vanguards against concerns and establishes trust in your audience-based media buying approach from the get-go.
3. Take Their Budget Farther

Another business-winning pitch point in your favor is how much budget efficiency that accurate audience targeting can achieve for your client. When you know the media consumption patterns of your campaign's target audience and disperse your ad budget accordingly to reach the right people, you avoid overspending on platforms that don't resonate with people who care about your message.
Every ad dollar counts, and with Tunnl, you get more bang for your buck.
"On average, you can get a 25% efficiency by using Tunnl Premium's insights," says Elise Lewis, Tunnl's Vice President of Product. "Say you spend a million dollars on a television campaign informed by Tunnl Premium. You'll get an extra $250,000 worth of value - as if you spent $1.25 million on your campaign."
Inform your audience-based media buys with Tunnl's media consumption data and you'll be able to stretch your client's budget further, achieving better results with a lower spend - and lining your packets with savings you can pass onto your clients or roll into upgrading your own Tunnl subscription.
Either way, a stronger return on ad spend is certainly a compelling selling point for clients wondering if they should continue to invest in your services.
4. Deliver Consistency
Inconsistent targeting leads to inconsistent campaigns, and the origin of your audience data can influence how transferable and actionable it actually is throughout your entire campaign across all channels.
For example, Meta audiences only work on Meta platforms. Try to recreate your targeting on other platforms and you'll get an approximation at best. You'll end up with audiences that are all over the map, varying in their accuracy, and skewing your ability to clearly report campaign results.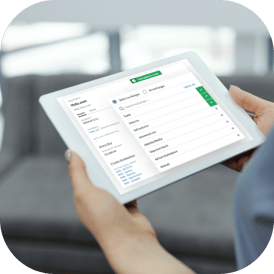 With Tunnl's audiences, agencies can cultivate consistent omnichannel ad campaigns that rely on the same audience data set across every platform in their paid advertising plan, including digital and direct mail. That means reaching the same issue-based audiences regardless of where you buy and sufficiently saturating your target audience for a surround sound effect despite the mounting challenge of media fragmentation.
Offering your clients consistent cross-channel targeting equates to more consistent campaign results that you and your clients can bank on. And you'll be able to prove it.
5. Measure Your Impact
From the second you launch an ad campaign, your client is waiting for word on how it performs. The ad platforms and DSPs you use can help you track cost-per-click and other conversions, but there are other metrics that can substantiate your short- and long-term impact with a specific audience.
Tunnl Premium subscribers have customized paid and earned media measurement dashboards that monitor what the people in a given audience are seeing on linear TV. Here's a brief rundown of how that works: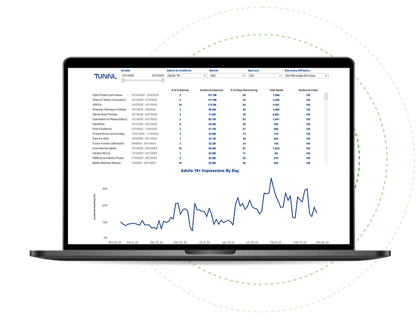 Paid media measurement dashboards show agencies which other organizations are advertising in the same space or on the same subject as your clients, even providing estimates of how much those groups are spending to reach the same target audience.
Earned media measurement dashboards display when and where topics of interest to your client are mentioned in media, offering a barometer of popularity, public sentiment, and more.
Take Your Campaign Measurement to Another Level with Brand Favorability Movement

Agencies can also track the impact of their campaigns by using Tunnl custom audiences to monitor fluctuations in brand favorability or sentiment toward campaign issues. We build brands and their agencies custom audiences dedicated to tracking movement in brand favorability over the course of an ad campaign. This way, as as media buyers run campaigns with prebuilt or custom issue-based audiences from us, the impact of that messaging on brand perception and favorability can be monitored.

It works like this: We ask people how they feel about a brand, issue, or cause, and you get custom audiences around each sentiment to set a brand favorability baseline. These audiences will be represented as "brand favorable" or "brand unfavorable."

When these custom brand favorability audiences are routinely refreshed as part of your custom audience subscription, you'll see how your campaign efforts or recent events have swayed opinions as people move in and out of the favorable or unfavorable audiences.
Combining the power of audience-based media buying with Tunnl's campaign measurement capabilities, you'll understand what's working, who's reaching your client's target audience and how, and when it may be time to pivot.
Being able to prove the impact of your audience targeting and campaign planning puts your agency on a clear path to repeatable success, rave reviews, and contract renewals.
Amplify the Impact of Your Clients' Campaigns
with Tunnl Data
The impact you deliver to your clients is the top determinant of whether they keep coming back for more. Clients come to you for results they cannot achieve anywhere else, and return on ad spend is a critical place to prove your services are worthwhile.
Tunnl enables agencies to deliver unrivaled results for their clients, from campaign planning through performance measurement and optimization. Our data and audience intelligence platform are your secret sauce - or open secret - to impressing, evangelizing, and upselling clients on your agency services.
Better results for them mean more business for you, and Tunnl is your conduit to better results.
Sources: IBIS World, Statista