Products | Audiences | Platform
Maximizing Your Advertising Impact with Audience-Based Buying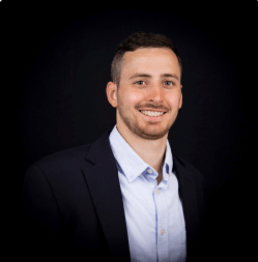 Teddy joined Tunnl in January of 2020 and is currently the Senior Director of Account Management for Agencies.
76% of customers feel that targeted advertising helps them discover new products and 40% of consumers actually prefer targeted ads, according to Gitnux. Give the people what they want, right?
That's the crux of audience-based media buying: delivering your ads to the people who genuinely want to see them and who are more inclined to take action on your message. You're probably already using some form of audience targeting in your ad campaigns.
But if you're still struggling to see significant results like qualified leads and more conversions, then there's more to audience-based media buying that the microtargeting experts at Tunnl can teach you to harness. Our audiences and audience intelligence platform have been putting the power of audience-based buying into the hands of issue advocates, public affairs shops, and brands for years, saving them from millions of dollars in wasted ad spend along the way.
Now, it's your turn to learn the ins and outs of audience-based buying to see if it's the right move for your campaigns.
What is Audience-Based Buying?
Audience-based buying is a strategy that targets specific groups of people who are most likely to be interested in a particular product, service, or issue. How can you tell who is most likely to be interested? Audience-based targeting can be rooted in a combination of factors, including:
Demographics
Buying habits
Beliefs or values
Hobbies or interests
Lifestyle
Group membership
Preferences
By identifying your audience's desires, habits, values, identities, etc., you're able to deploy maximally effective and efficient campaigns that reach and resonate with your target segment. Accordingly, audience-based buying is a powerful tool for advertisers looking to increase their impact.
At this point, audience-based media buying may sound like a too-good-to-be-true solution to maximizing your marketing impact, but you need to know how it works - and a few things to look out for - before you put all your eggs in the audience-based basket.
How Does Audience-Based Media Buying Work?
Audience-based buying is a data-driven methodology. From collecting reliable data to using it for strategic media planning, the audience-based media buying approach depends on the analytical assessment of dependable data. It sounds simple, but understanding the three foundational elements of audience-based buying will ensure you use your resources wisely.
1. Identify your audience
Before you get in the trenches of audience-based buying, you need to find your ideal audience. You likely already have an idea of who you're talking to or who you want to reach, but setting a clear audience definition for your campaign - e.g. Big Tech Regulation Persuadables in California - will improve the quality of your subsequent research and targeting.
Consider who you need to reach. Where are they located? How do they currently feel about your issue? Nailing down these details will ensure the data that you or a data provider collects is appropriately targeted.
2. Data collection and analysis
Audience targeting kicks off in earnest with data collection, and therein lies your first challenge as an audience-based advertiser. How do you collect accurate, compliant data about your target audience? You have several options, like:
Tunnl Tip: When you're working with data, compliance is key. And even with the best intentions, advertisers face more data security risks than they often realize or are prepared to handle alone. Read up on the top data security risks for advertisers to vet your data and any data providers you work with for audience-based buying.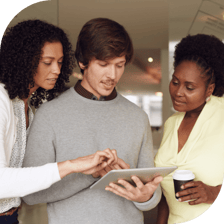 Finding meaning in your audience data is the next step. Identifying patterns and grouping people together based on similarities is how an audience is built, in part. You may notice during this phase that you need more information or stricter parameters to reach the ideal audience size. This can be achieved through more audience research, or through data enrichment and enhancement.
Audiences in hand, you need to know when and how to use them.
3. Targeting the right audience in the right place at the right time
You have your audience; now how do you reach them? And where? And when? Depending on the audience data you collect and the insights you derive from it, this could be simple.
Where and how your audience consumes media is the ticket to seeing audience-based buying success. Follow their eyes across every screen, delivering ads alongside media they already enjoy, and you're golden.
You can generally determine your audience's media preferences by:
Asking your audience directly about their media consumption habits and relying on self-reported data
Using your social media analytics to see which platforms earn your content the most engagement and when
Relying on cookies and website analytics to glean additional hints about your users' preferences and behaviors
Matching the demographic data you've collected to viewership information for broadcast networks and programs
Acquiring observed viewership information from a data partner
While all are great methods, the fastest, most reliable way to understand your audience's media consumption patterns is by analyzing their media mix compiled by a trustworthy third-party audience data provider.
Tunnl Tip: Wondering if it's worth it to advertise on social media, streaming platforms, or linear TV? Choose based on your target audience's media mix.

Media mixes encompass all the possible ways that a product can reach its desired audience through different avenues, such as linear TV, streaming platforms, social media, etc. In short, media mixes show you which platforms and mediums a given audience consumes media on, highlighting which they are more likely to consume than the average American. Advertisers can maximize their ROI while keeping costs in check by using media mixes to guide their budget distribution.

Every prebuilt audience and custom audience built by Tunnl includes media mix insights that show you how an audience prefers to consume media across multiple platforms and mediums.

For the best indicator of how to target your audience-based buy across all media types—social, streaming, and linear—we recommend Tunnl Plus. This dynamic platform tier delivers national and local media mixes, plus a linear vs. streaming TV breakdown so you can see how your audience prefers to watch TV.
Equipped with your target audience and their media preferences, you can allocate your ad budget and begin buying media where it will be most effective—and efficient. That's audience-based media buying in action.
Now that you know how it works, let's look into what you have to look forward to when you incorporate audience-based media buying into your marketing repertoire.
5 Big Advantages of Audience-Based Buying in Advertising
Audience-based media buying is gaining traction with advertisers because of how it improves media planning and return on ad spend. These are five of the major advantages of audience-based media buying that advertisers enjoy.
1. Greater targeting capabilities
The more you know about your audience, the more selective you can be with your ad targeting.
Take issue advocacy campaigns or advertisements with public interest messaging as an example. Advertisers who need to reach people based on more than demographics lean on issue-based audiences for their audience-based media buys, targeting people aligned with their cause or campaign.
But beyond what the audience believes, knowing where to reach them across all of their preferred channels is how audience-based buyers maximize accurate reach and impact.
With the audience-based advertising approach, gathering insights into your audience and where and how they consume media comes first, and other campaign targeting decisions follow based on what you learn. More data equates to more - and more accurate - targeting options.
2. Access to specific audience segments
Every audience has its nuances and audience insights allow you to identify them, understand them, and plan for them for the most targeted buys.
A prime example of audience insights is Tunnl's prebuilt audiences that cover relevant issues, interests, and attitudes. Whether you need to advertise to people who support government regulation of short-term rentals or you're targeting online activists, we likely have a prebuilt audience for it.
You could even access our premium prebuilt audience, for the U.S. Policy Opinion Makers, with demographic and media mix insights into the elite people who influence our nation's policy and who can advocate for your regulatory and policy issues.
Compliant and regularly refreshed, Tunnl's prebuilt audiences are ready for you to tap into without any data-gathering legwork. You can have a similarly hands-off experience commissioning a custom audience from Tunnl, which gives you exclusive access to insights on the ultra-niche audience your campaign is targeting.
Whomever you want to reach, audience-based media buying eliminates the guesswork of who your audience actually is and how to reach them where they're most likely to engage with your ads. The ideal customer or constituent you're envisioning right now? There are thousands and thousands of that person out there, and they can be reached with a Tunnl audience, no matter how niche.
3. Higher conversion rates
The best ad strategy is one that you can count on to convert. Audience-based media buying not only delivers more conversions but higher quality leads compared to other targeting methods.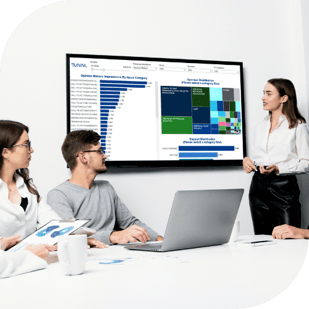 When audiences come across content that speaks to their interests and needs, they are more likely to pay attention, engage, and take action. This is because such content resonates with them on a personal level and addresses their pain points, desires, or aspirations. So, how do you get your message to the places where your audience is likely to see it?
Audience-based targeting enables you to identify and understand your audience's motivations, behaviors, and preferences. Paired with their media consumption habits, this information can then be used to place media buys that resonate with your audience and reach them on the platforms they prefer, increasing the likelihood of engagement and conversion.
4. Targeted impressions
Reducing ad waste is a game-changer in the world of advertising. By using audience-based marketing, you can ensure that your message gets seen by the right people and in the right place, increasing the effectiveness of your advertising campaigns.
Without audience-based targeting, your ads may be seen by people who have no interest in your product or service, resulting in wasted ad spend and a weaker return on investment. But with the accurate data gathered through audience-based marketing, you can reach the people who are most likely to engage with your brand and convert into loyal customers.
It's a win-win situation for both you and your audience, ensuring that your message gets heard loud and clear, while your audience gets the information they need to make informed purchasing, voting, and donating decisions.
5. Improved tracking and analysis
The measure of a successful campaign is its analytics. And when a strategy like audience-based media buying promises to improve your ad performance in so many pivotal ways, you have to see the results to believe it's not too good to be true.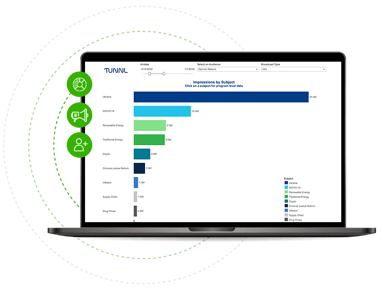 By using audience data to target specific segments of people, advertisers can track the effectiveness of their campaigns with greater precision. Audience-based media buyers are able to analyze impressions among the specific audiences they are targeting to understand how successful the campaign is with a highly-qualified segment.
Audience-based media buying also focuses analytics on what's important to your audience, like the competitor ads they're seeing and the way your ads create buzz in the news. What's happening within your audience is vital to designing campaigns with context and resonance, as well as tracking the effectiveness and efficiency of your ads.
Media measurement tools can help you keep track of your traction within an audience or issue. Tunnl's earned media measurement dashboards and our paid media measurement tool are excellent examples of how to keep tabs on your reputation and what your competitors are up to across paid advertising and earned news coverage.
With the ability to track and analyze the success of campaigns, advertisers can make more informed decisions on where to allocate their ad budget. But as you well know, it's gotten significantly more complicated to nail down audience attention in one place, thanks to the recent surge in available media platforms.
The Impact of Media Fragmentation on Audience-Based Media Buying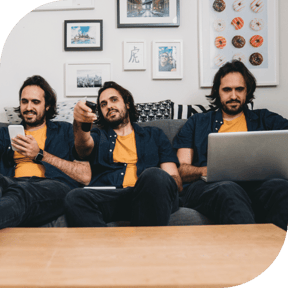 With the rise of social media and an abundance of streaming services, audience-based marketing has had to adapt to reach viewers who no longer rely on traditional linear TV for all of their entertainment. It's called media fragmentation; audiences have increased media options and are dividing their attention between them, making it difficult for advertisers to saturate an audience with their message.
There's also the issue of ad fatigue that drowns the effect of your message in a sea of others, and ad-blocking software that helps media consumers circumvent your messaging altogether. It's no wonder advertisers are scratching their heads about how to get heard over the noise.
Audience-based advertising promises relief from some of the frustration if you strategically apply it to your campaigns.
3 Key Strategies for Effective Audience-Based Buying in the Current Media Landscape
Rely on Audience Insights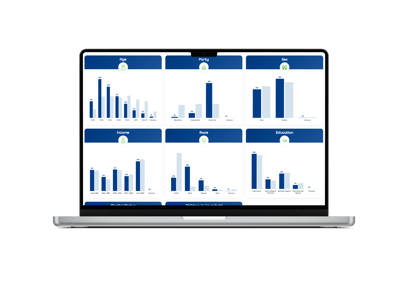 Media fragmentation is less of an issue for advertisers equipped with audience insights from a reliable audience intelligence platform. They know precisely where their audience is consuming media across social, digital, and linear channels and how that audience divides its time on each medium.
To see audience insights, including media mixes and demographic information for hundreds of prebuilt audiences, create a free account for Tunnl's audience intelligence platform and learn more about the audiences you're targeting.
Consider an Omnichannel Marketing Strategy
Analyzing audience insights, you'll likely find more than one area that your target audience over indexes, meaning they are more likely than the rest of the population to consume media on those platforms or via those methods. Perhaps they are like Tunnl's Pro Climate Action prebuilt audience that has index scores over 100 for LinkedIn and Live Broadcast TV, but are less engaged with TikTok and Digital Radio.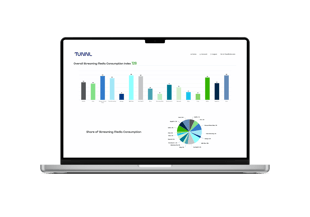 If you want to saturate this audience with your message, the best way to make a meaningful impression amidst all the noise and despite shortening attention spans is by advertising in each of the different spaces where your audience is more likely than the average person to be consuming media.
An omnichannel advertising approach creates a surround-sound effect your audience cannot ignore.
Implement Programmatic
Programmatic is a type of audience-based media buying that automates your digital ad buys using algorithms and machine learning to analyze audience data and available ad space to determine the optimal ad placement for your campaign to achieve maximum impact amongst your target audience.
Since your audience's attention is likely to be divided across many digital channels, programmatic advertising enables you to capitalize on more of their screen time automatically and get your message repeated in multiple places for better retention. It's also instrumental for optimizing your buys over time using audience and impression data so that you're less likely to waste ad dollars and more likely to reach your target audience.
As media consumption trends and the advertising landscape continue to evolve, a programmatic approach keeps you on track automatically. Advertisers who take full advantage of programmatic reap the benefits of audience-based targeting across multiple media channels without a painstaking, decentralized media buying experience.
Add Audience-Based Advertising to Your Marketing Mix
You have your pick of marketing and advertising strategies. There are plenty out there that trend in and out of vogue as tech innovations and consumer expectations change. But audience-based advertising is truly foundational, always keeping up with what motivates your audiences, even as everything else in the ad landscape is changing.
Audience-based media buying is a strategy uniquely aligned to conquering the challenges advertisers are facing across their digital, streaming, and linear TV campaigns. From media fragmentation and ad fatigue, to budget waste and low-quality impressions, audience-based buying offers a proven solution to improving your campaigns' impact.
To get started with audience-based buying for your campaigns, create a free Tunnl account, to browse through and start using all of our hundreds of prebuilt audiences and insights instantly, an Advanced Search feature to create your own audience segments, and the option to activate any of your audience data into your digital channels with the click of a button.
Or, you can keep learning more about how audience-based media buying differs from other strategies and how this agile advertising strategy can help you improve your campaign performance and ROI.
The benefits of audience-based media buying will be waiting for you whenever you're ready.