Which Tunnl Platform Tier is Best for You & Your Campaigns?


Amanda joined Tunnl in April 2022 and currently serves as the Senior Director of Customer Success.
Audience identification is the most important step in devising an effective ad campaign. Your budget, assets, platform choices, ad times, and messaging all take a backseat to audience identification because, without accurate audience insights, your campaigns could miss the people you want to reach entirely. But if you're only answering who your target audience is, you're missing a piece of the puzzle.
Here's the real question: What do you need to know about your audience to reach them efficiently?
The details of your answer will help you determine which types of audiences, insights, and tools you need from your Tunnl experience. We've worked with hundreds of advertisers and agencies across the brand, public affairs, and political spaces. It's with that up-close understanding that inspired the three Tunnl platform tiers we have today: Free, Plus, and Premium.
We developed the entire platform to make it easy for advertisers and agencies to access the exact audience insights they need, 24/7. This overview will help you match the insights you need to the Tunnl platform tier that provides them so that you can decide confidently where to get started.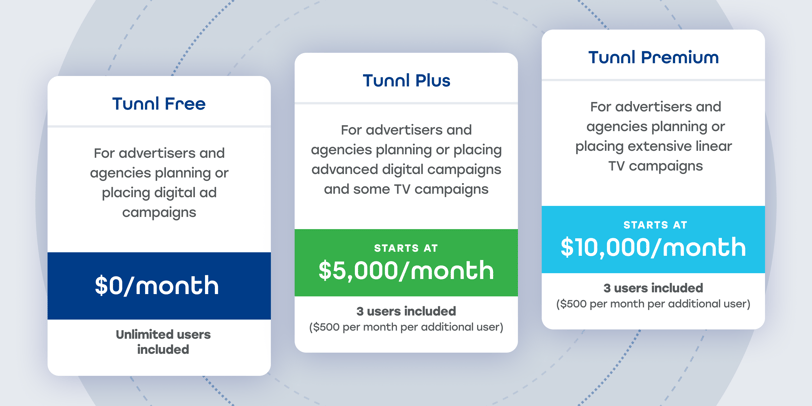 What's Inside Tunnl Free?
Tier Overview: Tunnl Free

Best for: Advertisers and agencies planning or placing digital ad campaigns

Cost: Free

Users: Unlimited

What's Included:

Demographic and national digital media mix insights into hundreds of prebuilt audiences and any custom or Opinion Makers audience subscriptions you may have
Advanced Search function for simple custom audience combinations based on issues and geographies
Audience activation in ad platforms

Limitations:

Limited audience customization
Limited insights into linear and streaming TV viewership
No local insights into digital media consumption
No measurement tools
Tunnl Free is the base tier of our platform. You can sign up for Tunnl Free without any commitment or complex onboarding giving you and an unlimited group of additional users instant access to millions of dollars of audience insights. But it has its limitations.
Tunnl Free is ideal for agencies and advertisers who need to see demographic and media mix insights on a national level for their digital media campaigns. And since it's always free - no expiration dates - it's a media planner's best friend for mapping and executing diverse campaigns, any time. Here are the highlights of what it can do:
Identify your ideal audience

with the Audience Explorer where you can search

hundreds of prebuilt audiences

by issue type and geography.
Analyze audience insights into demographics and national media mix for social media and streaming TV platforms.
Create new audiences based on simple, custom combinations of issues and geographies with Advanced Search.
Focus your audience with local demographics down to the zip code level.
Activate your audiences in the ad platforms of your choice with the push of a button.
Tunnl Free also supports custom audience and Opinion Makers audience subscriptions like the U.S. Policy Opinion Makers, so there's no need to upgrade your platform tier to use them. And if you're content with the insights and tools of Tunnl Free, you can get away with the free version of the platform forever.
"You could use Tunnl Free daily, and it will not cost you a dime," says Teddy Kamody, Tunnl's Director of Agencies. "You get extremely valuable insights that can amplify your digital ad ROI, without paying us anything."
Though the value of Tunnl Free can carry your campaigns far, more complex media plans may demand an upgrade. If you're planning or placing linear or streaming TV campaigns, or if you need local digital media mix insights to better target your audiences, Tunnl Plus or Tunnl Premium is more likely to serve your needs.
What's Inside Tunnl Plus?
Tier Overview: Tunnl Plus

Best for: Advertisers and agencies planning or placing advanced digital campaigns and some TV campaigns

Cost: Starting at $5,000/month

Number of Users Included: 3

What's Included:

National and local media mix insights
Linear vs. streaming TV breakdown to compare TV viewership
Cable ranker to determine the best cable channels for your audiences across all 210 media markets
Audience Builder to create custom audiences based on TV viewership,

geographic radiuses, and demographics

Audience activation in ad platforms

Limitations:

Restricted to 15 prebuilt audiences and any custom or Opinion Makers audience subscriptions you may have, but can add on more for an additional cost
No local, program-level linear TV insights
No daypart breakdowns
No measurement tools
While Tunnl Free is built for digital advertisers, Tunnl Plus introduces features for TV advertisers too. It's our best-of-both-worlds Tunnl tier. Tunnl Plus provides more granular media mix insights and analysis tools to elevate your digital campaigns, and includes insights into streaming and linear TV viewership to help you level up your TV campaigns. Here's what you can do inside of Tunnl Plus:
Keep all Tunnl Free features including national media mix for hundreds of prebuilt audiences and any custom or Opinion Makers audience subscriptions you may have.

Filter your digital

media mix

insights by local geographies

to get a precise picture of where, how, and how often local slices of your audiences are consuming media.
Identify streaming and linear TV consumption habits for your audience with a breakdown of their streaming vs linear TV viewership.
See which cable networks are most popular with your audiences across all 210 media markets using the cable ranker.

Create complex new audiences

based on streaming and linear TV viewership,

geographic radiuses, and configurable demographic parameters

with an enhanced version of the Audience Builder.
You'll note some familiar features from Tunnl Free on that list, along with some new options. The returning features expand their functionality when you get into Tunnl Plus - like local media mix insights instead of only national, and the ability to create more complex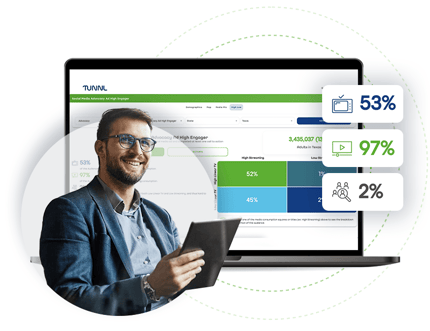 custom audiences based on viewership data, specific geographic radiuses, and demographics in the Audience Builder. But those deeper insights come at a cost.
Starting at $5,000 per month, Tunnl Plus has the potential to pay for itself through higher ad returns and minimized spend with maximum impact. The cable ranker data, paired with media mixes and linear vs. streaming TV, can tell you precisely where to place your ads to reach the most engaged audience. The decision between Tunnl Free and Tunnl Plus comes down to what fits into your budget, and if you can afford not to have granular insights into media consumption when planning your campaigns.
"Tunnl Plus is geared toward making your digital spend as efficient as possible and easing into TV," says Amanda Beadle, Tunnl's Senior Director of Customer Success. "As the fragmented TV viewer space makes it even more complicated to try to reach people, Tunnl Plus is a really helpful tool to get to the insight you need without going overkill on the pieces that you don't need related to TV."
But there's another Tunnl platform tier to consider. Tunnl Plus has perks for advertisers and agencies eyeing campaigns across social media platforms, streaming, and linear, but as a jack of all trades, it may lack the mastery the most serious linear TV advertisers need.
What's Inside Tunnl Premium?
Tier Overview: Tunnl Premium

Best for: Advertisers and agencies planning or placing extensive linear TV campaigns

Cost: Starting at $10,000/month

Number of Users Included: 3

What's Included:

Local, program-level, linear TV ratings
Paid media measurement including competitive analysis
Earned media measurement to track when, where, and how often a topic is mentioned on TV

Limitations:

Restricted to 5 audiences, but can access more at an additional cost
Paid and earned media measurement do not include social media or streaming TV
No sentiment coding for earned media measurement
If Tunnl Free was a splash pad and Tunnl Plus was the shallow end of the pool, then Tunnl Premium is the ocean. The insights available in Tunnl Premium are leaps and bounds beyond what you'll find in the preceding tiers. And since Tunnl Premium layers on top of what you'll find in Free and Plus, your campaigns will be maximally informed.
Tunnl Premium was built for the most serious linear TV advertisers who need to measure the performance of their big-investment linear TV campaigns. Here's how Tunnl Premium empowers the smartest linear TV advertising:
Keep all Tunnl Plus features including cable ranker and linear vs. streaming TV.
Identify which linear TV programs offer the most reach and density for your target audiences with local TV ratings.
Track all the TV ad activity in a particular market relative to areas of interest with the paid media measurement tool so you can see what your audience sees: your ads and those of your competitors and contemporaries.
Monitor mentions of relevant topics in your industry - including talk of your organization, principals, or key topics and issues - with earned media measurement insights.
Watch the media clips mentioned in paid and earned media measurement reports to see the exact ads and news clips that are informing your audience's perspectives.
Receive reports that summarize key happenings in your monitored spaces to see a streamlined breakdown of what's available in your Tunnl Premium dashboard.
You can unlock all of these features starting at $10,000 a month with the flexibility to add on additional users and/or audiences a la carte. Tunnl Premium comes outfitted with everything you need to understand your target audiences and reach them with maximum efficiency via linear TV. Like Tunnl Plus, Tunnl Premium can pay for itself.
"On average, you can get a 25% efficiency by using Tunnl Premium's insights," says Elise Lewis, Tunnl's Vice President of Product. "Say you spend a million dollars on a television campaign informed by Tunnl Premium. You'll get an extra $250,000 worth of value - as if you spent $1.25 million on your campaign."
If you're serious about linear TV advertising, Tunnl Premium is a must for you.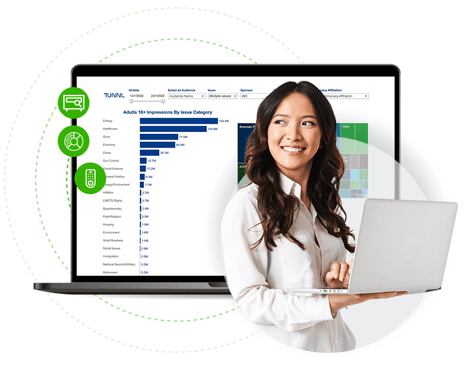 But before you sign on the dotted line to become a committed Tunnl Premium user, remember this:
Digital and streaming TV advertisers will not see any direct benefits to using Tunnl Premium. Since the top Tunnl platform tier is built specifically for linear TV planners and buyers, the insights it provides will fail to inform better buying decisions for digital and streaming TV campaigns. While Tunnl Premium's linear TV insights can tell you more about your audiences' tastes and habits, they won't hold the actionable relevance that you'll get from Tunnl Plus' digital and streaming TV insights.
So, which tier will you choose?
How to Choose the Right Tunnl Platform Tier for You
Nobody knows your campaigns better than you. You know how your ads are performing now, and what's holding you back from higher ROI. So when it's time to pick a Tunnl platform tier that can keep up with the precise complexity of your campaigns, the best question to ask is this:
What insights do you need to reach the right audience most efficiently?
Now that you know what's inside of each tier of the Tunnl platform, get more familiar with our pricing and key features we offer. And when you're ready, we can compare each Tunnl platform tier for you side-by-side in a demo so you know exactly what you're in for.