Tunnl | Products | Audiences | Platform
How to Improve Your Audience Targeting in Minutes with Tunnl's New Audience Builder

You need precise audience targeting, and you need it now.
Decades of microtargeting experience and building custom audiences for clients have shown us what advertisers in public affairs, issue advocacy, and purpose-driven marketing need: granular, precise targeting that's as dynamic as their campaigns and powerful enough to make a substantial impact with their target groups.
And they want it on their own terms because every second and every mistake counts and costs in advertising.
To put the power of building hyper-targeted audiences informed by Tunnl's peerless data library into the hands of advertisers and agencies like you, Tunnl created the Audience Builder, an always-on, self-service tool in the Plus and Premium tiers of Tunnl's AI-powered audience intelligence platform that empowers users to build hyper-targeted audiences based on your own selection of issues, demographics, geographies, and interests, any time, any day, and fast.
How to Build Your Own Audiences with Tunnl's Audience Builder
Identifying a granular audience that unites several issues, geographically specific targeting, and custom demographic parameters is complex work. Audience intelligence at that level requires
billions of data points and the immense resources necessary to parse through it all.
Tunnl's extensive library of prebuilt issue-based audiences in your hands with complex layering commands and configurable demographic and geographic fields simplified to give you complete control over your audience targeting.
Here's what you have to look forward to when you use the Audience Builder available in Tunnl Plus and Tunnl Premium.
6 Can't-Miss Features for Building Your Own Granular Audiences in Minutes with Tunnl's Audience Builder
Feature #1: Layer Multiple Issues and Interests to Create Your Own Audience
The principle perk of Tunnl's Audience Builder is the ability to combine, overlap, and exclude several prebuilt, issue-based audiences and interests to create your own new audiences in minutes. You can find the issues relevant to your campaigns using the issue filter, or begin typing in the audience search bar to leaf through hundreds of prebuilt audience options.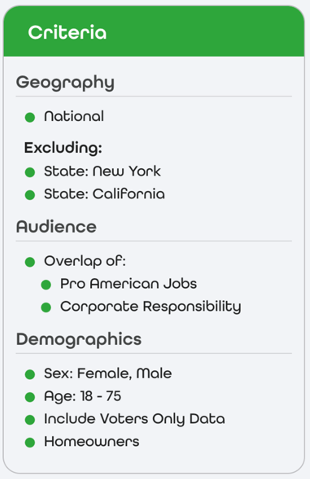 As you select your audiences, you can use multiple actions like overlap, union, and exclusion to hone in on your target audience based on the multiple issues and behaviors that are central to your campaigns.
In this example, we used unions, exclusions, and overlaps to build a new audience of voters who live anywhere but New York or California who support corporate responsibility and believe that growing the economy and creating American jobs is a priority.
The end result is a group concerned about where companies and CEOs stand on hot-button societal issues and could likely be mobilized to support or prioritize changes to the American economy during the next election.
By combining issue-based audiences with relevant behaviors and interests, you can focus your campaign targeting on the right people to drive your desired impact.
Feature #2: Geographic Filtering
The Audience Builder simplifies the nuances of reaching issue-based audiences in unique areas throughout the country. Whether you need to target people in specific states, DMAs, or congressional districts, or you want to reach people within a certain mile radius of a precise address, zip code, or landmark, the Audience Builder enables you to do exactly that.


When filtering by geography type, your options will include:
National
State
County
City
Zip Code
Media Market

Media Market by State
CD (Congressional District)
State Legislature
State Senate
Search by Radius
Feature #3: Demographic Filtering
In addition to issue-based audience layering and geographic filtering, you can use the Audience Builder to hone in on specific demographic groups within your target audience. Select which sex you want to include in your new audience, choose all adults or set an age range of your choice, political identification, income, and more.

The Audience Builder also enables you to hone your audience based on interests or behaviors, including:
Demographics

Homeowners
Likely Renters

Interests

Video Game Players
Pickleball Interested

Behaviors

High Turnout Voters
Mocktail Consumers
Feature #4: Tailored Audience Insights
The most powerful feature of Tunnl's Audience Builder is the near-instantaneous audience insights you receive for the new segments you create, like demographic breakdowns and media mix insights that show you how often the audience you built consumes media across different channels.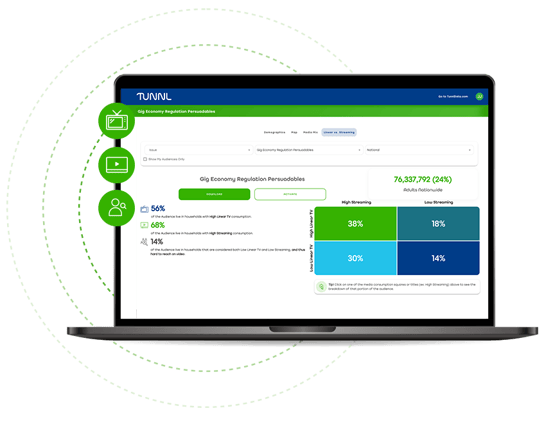 Depending on the Tunnl platform tier you're subscribed to, you'll also be able to see:
A Linear vs. Streaming TV matrix, showing your

new

audience's preferences for streaming and linear TV compared to the rest of the nation.


TV ratings, to find out which TV programs will earn your ads the most exposure with the audience you built.
With these insights, you not only know who is in your target audience, but where and how to reach them for maximum campaign efficiency and effectiveness. What once was a perk reserved strictly for Tunnl's custom audience clients is now in your hands to use whenever you want.
Feature #5: Always On, Autonomous Access
You need precise audience targeting, even if now is the middle of the night, a Sunday afternoon, or during a bank holiday. With Tunnl's Audience Builder, there's no need to wait for our team to create an audience for you; you can log in to your Tunnl account and build your own multi-issue audiences at any time, whenever you need.
Feature #6: Share Audiences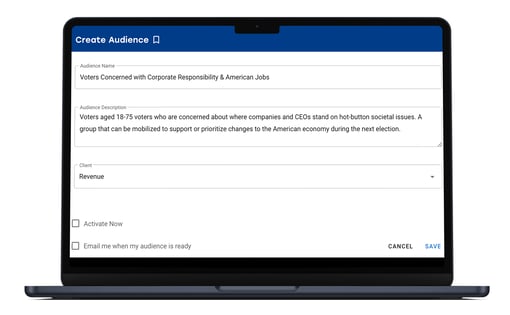 Audience-based media buying is an iterative process and your audience targeting needs may change over time. Nonetheless, it's critical that advertisers, agencies, media buyers, other stakeholders are on the same page about who to target and are all using the same audience parameters across every platform involved in your campaigns.
The Audience Builder solves all of that. When you click "Create Audience," you can name, save, and share the audiences you build in the Tunnl Platform with other users.
This enables you to revisit the audiences you create with the Audience Builder and ensures that everyone on your team uses the precise audiences you've built for your campaigns.
Ready to Buy Against the Audiences You Built?

You can send your data from Tunnl's audience intelligence platform directly to your digital ad platforms and DSPs to make buying against precise audiences seamless. Whenever you're ready, day or night, hit the "Activate Now" button in the Tunnl platform and complete the audience activation request form. Your audience data will populate within your buying platform within about 48 hours.
Start Building Your Own Audiences with Tunnl's Audience Builder
Time is money, and in advertising, every moment you spend on inaccurate or incomplete audience targeting can lead to thousands of dollars in budget waste. But with Tunnl's Audience Builder, you are in complete control and empowered to create granular issue-based audiences at a moment's notice as your audience targeting needs change.
Our Audience Builder is available to all Tunnl Plus and Tunnl Premium subscribers, along with respective suites of powerful audience intelligence tools that enable smarter audience-based media buys across digital and linear TV.
Powerful, granular targeting is not only within your immediate reach; with Tunnl, it's also fast and simple.
To see the Audience Builder live in action with your unique needs guiding the way, request a demo with a member of our team.