Audience-Based Media Buying Terminology You Need to Know

Jargon slows everyone down. And when you want to find audience tools that work or get down to the nitty-gritty with a potential audience partner, nobody wants to stop the conversation and say, "what's that mean?"
But there are terms you may not know, and you're right to want answers. Tunnl has spent years connecting advertisers to their target audiences. The best conversations we've had with clients and partners all have one thing in common: we're all on the same page.
This glossary will give meaning to the terms you'll hear from the Tunnl team and throughout your search for audience solutions. So, instead of spending calls feeling like you're trapped in a vocabulary quiz, you can ask more meaningful questions and find the answers you need faster.
Audience-Based Media Buying Terminology, Defined
Every term defined here comes together to create your Tunnl experience, but feel free to skip around. Some of these terms may be familiar to you, while others are Tunnl-specific.
Microtargeting
Microtargeting is a campaign targeting strategy that enables advertisers to reach target individuals with precision and accuracy based on data about their interests and where they consume media. It's the foundation of what Tunnl does.
Tunnl's Co-Founder and Chief Data Scientist, Brent Seaborn was instrumental in the development of microtargeting in the early 2000s. It's his and Tunnl's mission to bring the game-changing strategy to advertisers and agencies across America through Tunnl's audiences, insights, and audience intelligence platform.
Personally Identifiable Information (PII)
Microtargeting requires consumer, voter, and/or demographic data to work accurately, but that means managing personally identifiable information, known as PII. There are different forms of PII that range in their sensitivity. Something like your phone number or email address is PII, but so is your social security number or credit card information.
While it's important to us to build accurate audiences that enable advertisers to reach the right people, data security is our utmost concern at Tunnl. We have several layers of protection in place to address the top data security concerns for advertisers. Notably, we do not deal in the most sensitive forms of PII, including social security numbers or credit card details, and we only deliver anonymized data to our clients.
First-Party Data
First-party data is any data you collect yourself. This includes information provided to you when people opt in to receive communications from you, sign a petition to support a cause and join an advocacy database, or become a member of your organization.
First-party data is valuable to marketers because it is inherently reliable as self-reported, entrusted information.
Tunnl collects first-party data through surveys and then matches that data to our anonymized consumer and voter databases to model accurate issue-based audiences representative of a larger group of people.
Bringing your own first-party data to Tunnl also allows you to access audience insights, including demographics and media consumption behavior for the people in your database.
While first-party data is the starting point for Tunnl's audiences, the anonymized audiences we create are considered third-party data when securely transferred to DSPs or used by advertisers.
Third-Party Data
Third-party data is any information you did not collect yourself but acquired from another entity. This can include syndicated audiences you activate within your ad platform or DSP, or custom audience data you commission from a data provider like Tunnl.
Third-party data offers flexibility and improved reach efficiency to marketers and advertisers because it typically encompasses a larger population of people than those you've already reached yourself (as would be represented in any first-party data you've collected). Trustworthy third-party data also has the advantage of being anonymous and privacy compliant to keep your company safe.
When purchasing or using third-party data, it's crucial to verify the integrity of the data you're using, the data collection methods being deployed, and how recently the data has been refreshed for accuracy.
In Tunnl's case, our scalable audiences are anonymized to protect PII and are refreshed regularly to ensure accuracy as sentiments shift. From data collection to management to transfer, we prioritize data security to free advertisers like you from the rigors of building or maintaining a compliant data infrastructure - while reaping all the benefits of third-party audiences.
Data Integrity
When you're dealing with PII on a daily basis, integrity is everything. At Tunnl, data integrity refers to the accuracy, consistency, security, and reliability of data throughout its lifespan. It ensures that the data is not tampered with or modified without authorization and that it remains complete and accurate.

Our approach to data integrity is holistic. Tunnl's solutions are delivered on a subscription basis, allowing us to regularly refresh the data that inform our audiences. Audience refreshes ensure that the audience you're using accurately represents reality, even as public sentiments change.

Tunnl preserves the integrity of our data throughout its entire lifespan, safeguarding advertisers from security vulnerabilities and liability. We collect, manage, host, and maintain audience data with the utmost respect for individual privacy and compliance law, so you don't have to worry about the expensive, time-consuming (and uncompromisable) elements of using third-party audience data.
Audiences
Audiences are lists of individual people grouped together based on how receptive they are to a particular message, issue, or cause. Everyone in an audience is united by their similar sentiments, stances, or lifestyle, enabling advertisers to target their messages to people who are most likely to care about it.
Tunnl provides hundreds of prebuilt audiences (including Opinion Makers audiences like the U.S. Policy Opinion Makers) and custom audiences for advertisers and agencies who need to reach a niche group of people with their campaigns. Tunnl audiences are created from analysis of billions of data points across demographics, behavioral traits, media consumption patterns, interests, opinions, political leanings, and more.
Get started with Tunnl's prebuilt audiences right now inside the Tunnl platform and quickly activate the right audiences for your campaigns in digital ad platforms to buy against directly.
Audience Insights
Audiences aggregate people into targetable groups based on data about sentiments, stances, or lifestyle. Audience insights tell you who makes up those groups and how they prefer to consume media so that your campaigns reach the right audiences with maximum efficiency.
Tunnl's audience insights cross the two most important types for public affairs, issue advocacy, purpose-driven marketing, and cause marketing campaign success:

Demographic insights

: who the audience is, including sex, age, and race

Media consumption insights

: where and how the audience consumes media from social and streaming to linear TV

Audience insights become more varied and robust as you level up your Tunnl platform tier

.
Index Score
In the world of audience insights, you will come across "index scores." An index score is a numerical rating that gives you an at-a-glance indication of how an audience compares to the baseline population on a certain behavior or factor. Simply put, an index score rates whether your audience is more or less likely than the general population to do or agree with something.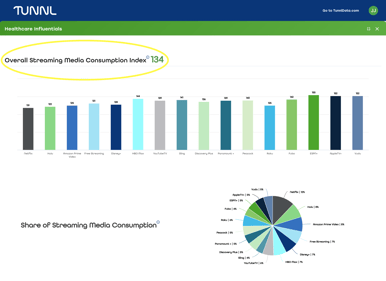 Tunnl's audience insights include index scores for media consumption. They operate with a baseline of 100; an audience with a media consumption index score below 100 indicates that they consume less of a medium than the general public, whereas an index score above 100 would indicate they consume more. For example, with an Overall Streaming Media Consumption Index of 134, our prebuilt Healthcare Influentials audience consumes far more streaming TV than the general public. Had the Overall Streaming Media Consumption Index been below 100 instead of above, we would know that this audience consumes less streaming TV than what's typical.
Use index scores to decide which mediums and ad platforms are most appropriate for reaching your target audience.
Audience Intelligence Platform
Audience intelligence platforms bring audiences and audience insights into a single application with tools to action on and analyze them. Though their features can vary, leading audience intelligence platforms enable advertisers to identify their target audiences, assess information about them, and then use that information to plan maximally efficient media buys.
Tunnl offers its own audience intelligence platform to make it easy for users to access and interact with their particular configurations of our growing suite of audiences, insights, and tools for planning and measurement. Specifically designed for advertisers and agencies who need to maximize the reach of their public affairs, issue advocacy, purpose-driven marketing, or cause marketing campaigns, Tunnl's platform offers three different tiers to choose from:
Tunnl Free

for advertisers and agencies planning or placing campaigns across a mix of digital channels

Tunnl Plus

for advertisers and agencies that want to level up their TV campaign targeting

Tunnl Premium

for advertisers and agencies who plan or place an extensive amount of linear TV campaigns
Purpose-Driven Marketing
Consumers care about the values held by the companies behind the products and services they buy. Purpose-driven marketing acknowledges this shift in buying behavior, going beyond the corporate bottom line to connect with a target audience based on a cause that they both believe in. Marketing with a mission enables advertisers to connect with their target customers on a deeper level, motivating feel-good, guilt-free purchases and more meaningful bonds that last.
At Tunnl, we know that brands prioritizing purpose-driven marketing have a better chance of outperforming brands that are strictly selling. When your customers see their own values championed by your brand, they will be more likely to purchase from you. Our hundreds of prebuilt audiences are based on how people feel about timely issues and topics so that you can identify the particular people who care about your message and reach them where they like to consume media.
Cause Marketing
Like purpose-driven marketing, cause marketing is rooted in what really matters to your audience and builds meaningful, lasting bonds with your target customers. Cause marketing is a collaboration between a brand and a nonprofit that drives sales for the brand and promotes the nonprofit's cause.
Tunnl understands that cause marketing campaigns can make an enormous impact when they reach the right people. That's why we've built hundreds of prebuilt audiences, all based on how people feel about timely issues, accessible instantly, for free, inside the Tunnl platform. Create your free Tunnl platform account to find the audience that's right for your particular cause marketing campaign. Is the cause that your campaigns are supporting extra-niche? You may find that you're a better fit for a custom audience based on your own, custom issue, instead.
Content-Centric Marketing
When and where you choose to place your ads can impact who you're able to reach and what your campaign budget will be able to achieve. For TV advertisers, it's common to take a content-centric approach to choosing the ideal ad placements.
By choosing to run their ads during specific TV programs based on the average viewership of that program, advertisers are enacting content-centric marketing. That is, they are assuming they can reach viewers within certain demographics by advertising during shows people within that demographic may be watching.
While effective to an extent on their own, content-centric marketing efforts are more efficient when informed by audience-based targeting first because audience insights may reveal unexpected, less-expensive opportunities to reach your audience more directly.
Advertisers employing a cause marketing or purpose-driven marketing approach to their ads may achieve more accurate and efficient targeting with audience-based buying as their foundation.
Audience-Based Buying
An alternative and counterpart to content-centric marketing, audience-based buying takes an audience-first approach to media planning. Advertisers utilizing this approach will identify their campaign's target audience early in the media planning process, using audience intelligence to determine their demographics, media consumption patterns, and sentiments on key issues.
Armed with audience insights, audience-based buyers can reach a group of people who care about the issues in their campaigns and strategically place their ads on the mediums and platforms that their target audience frequents.
Cause marketers and purpose-driven marketers benefit from deploying an audience-based media buying approach because it allows them to use their campaign's cause as a springboard for all other media planning decisions. Once they find an audience that aligns with them on the issues in their campaigns, they are able to determine where and how to maximize their reach efficiency with that segment via insights like Tunnl's media mixes.
Reach Efficiency
Reach efficiency refers to how effective your ad budget and overall campaign are in reaching your target audience. Advertisers delight in driving maximum campaign results with minimum financial input and reach efficiency measures the rate at which that's achieved.
Dial into your campaigns' reach efficiency with Tunnl's issue-based audiences and insights into demographics and media consumption, all kept up-to-date so that as long as you're buying against Tunnl data, you can feel confident that you're reaching the right people where they're most likely to engage with your message, even as sentiment and media consumption patterns change over time. When you spend less money to reach the people who care right away, you can reallocate that saved budget to meet other important goals and run additional campaigns.
Audience Builder
Let's be honest. Custom audiences are the dream. But not every advertiser has the time or budget to make them happen. Tunnl's audience intelligence platform offers an Audience Builder that lets users create their own custom audiences any time, fast. Build audiences based on different combinations of geographies, demographics, issues, interests, and viewership insights in Tunnl Plus.
Here are the three different ways you can slice, dice, and layer audiences with Tunnl's Audience Builder:

Overlap: Identifies individuals who appear in all of the selected audiences and generally results in a smaller audience count.
Exclude: Retains target audience criteria while removing any individuals who are in any of the excluded audiences from the final audience count.
Unite: Identifies individuals who appear in any of the selected audiences and generally results in a larger final audience.

The ability to overlap, exclude, and unite prebuilt audience is also available for Tunnl Free users with the Advanced Search feature, but is limited to only issues and geographies, and only supports simple combinations.
Since every exclusion, union, and overlap modifies your audience size, keep an eye on counts and consider how large your target audience should be to achieve an optimal reach and frequency.
Cable Ranker
Available exclusively inside Tunnl platform tiers Plus and Premium, Cable Ranker is a media planning tool that lets you easily identify which cable TV channels are preferred by your audience (and which aren't) across all 210 media markets. Place your campaigns on the cable TV channels that rank highest against your audiences and avoid the cable TV channels that are ranked lower to achieve maximum cable TV campaign reach efficiency.
Media Mix
A media mix, also known as a marketing mix, is a combination of communication strategies that brands can use to connect with their target audiences. It encompasses all the possible ways that a product can reach its desired audience through different avenues, such as traditional advertising, digital advertising, social media, etc. By finding the right balance between traditional and digital media avenues for their target audience, brands can maximize their ROI while keeping costs in check.
Tunnl's media mix insights show advertisers which mediums are most preferred by a particular audience including cable, live broadcast, and radio, with per-channel breakdowns of social media and streaming TV consumption. Also included are index scores for a particular audience's overall media consumption, overall social media consumption, and overall streaming TV consumption.
Media mix insights are available at the national level in every Tunnl platform tier, including Tunnl Free. Unlock the option to filter media mix insights by local geographies like city, DMA, and Congressional district when you upgrade to Tunnl Plus or Tunnl Premium.
Linear Optimization
Linear optimization is the process of optimizing the reach efficiency of your linear TV campaigns based on linear TV viewership data.
Exclusively available in Tunnl Premium, Tunnl's linear optimization solution empowers linear TV advertisers to maximize their linear TV campaign reach with the deepest, most actionable insights into their audiences' linear TV viewership. Informed by billions of rows of observed viewership data, insights are delivered via interactive analysis dashboards that make it easy to determine where your audience consumes the most linear TV down to program and daypart levels. Use the optimal spend dashboard to plan the most ideal spend to meet your precise campaign goals.
Since the launch of our linear optimization solution in 2022, more than $2 billion of linear TV buys have been made against insights garnered from it, enabling users to gain more than $500 million in collective efficiencies.
Media Measurement
Media measurement is the practice of assessing your campaigns' performance in the media against the goals that you set for it, e.g. reach and influence.
The premium tier of Tunnl's audience intelligence platform delivers two media measurement experiences that allow you to assess both: paid media measurement and earned media measurement.
Both paid and earned media measurement solutions allow you to click through your analytics into video clips of your campaign in the linear TV media and the mentions of the topics that you're tracking across linear TV channels and programs.
Paid Media Measurement
Paid media refers to any content, marketing, or media appearances that your organization pays to place. Think of paid ads on TV, social media, radio, etc.
With Tunnl's paid media measurement suite, advertisers like you can measure the impact of their paid advertising against their target audiences in linear TV media and see how they stack up against competitors.

Earned Media Measurement
Paid media is media space you purchase, like ads, and organic media is broadcast, posted, or accessed for free, like social media content. But what about the media that you don't create on your own that still contributes to your organization's image, reputation, and impact, like getting mentioned on the local news?
Earned media is any content created about your business that you did not pay for or create yourself.
Using Tunnl's earned media measurement tools, you can monitor when specific topics are mentioned down to the program level to measure the impact of your efforts on organic linear TV results such as media hits or interviews.
Ad Platforms
Also referred to as placement platforms and media buying platforms, the term ad platform refers to an online space that enables advertisers to monetize the platform's visitor traffic through the promotion of the advertiser's products or services. There are several digital ad platforms available, including TV streaming services and social media apps, and each offers its own distinct advantages to help advertisers tailor their ad strategy to their ideal audience. With the right advertising platform, advertisers can maximize the reach efficiency and impact of their ads and drive better results.
Tunnl's audience insights, namely media mix, illustrate which ad platforms provide the highest degree of reach with your target audience. Tunnl's audience data also syncs seamlessly with your preferred ad platforms to enable expedient audience activation to keep your campaigns moving.
Demand-Side Platforms (DSPs)
Demand-side platforms, typically shortened to DSPs, are automated programmatic advertising services that allow advertisers to place and manage their media buys across multiple ad platforms. DSPs give advertisers one central interface for their disparate digital ad campaigns.
Tunnl works closely with DSPs like The Trade Desk, Basis, and Simpli.Fi to enable audience activation for advertisers and agencies buying media across multiple ad networks.
Audience Activation
Interacting with audience insights inside the Tunnl platform will help you get a clear idea of who your audiences are and where in the media they're most likely to be reached by your campaigns.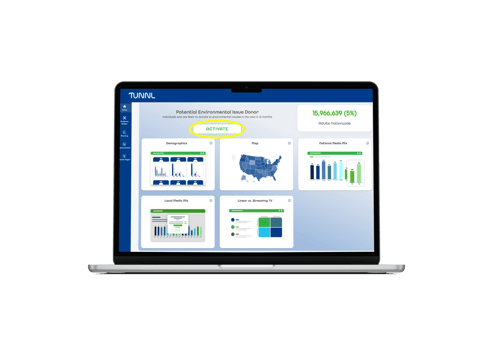 Ensure those insights inform all your buys across any mix of digital channels by activating your chosen Tunnl audiences in ad platforms like Roku, Facebook, and Twitter and DSPs like The Trade Desk, Basis, and Simpli.Fi. Choosing to "activate" sends your audience data to your selected ad platforms, allowing you to buy against it directly, maximizing your campaigns' reach efficiency across channels.
How do you activate? It's easy! And fast. Inside the Tunnl platform, you'll see an "Activate" button at the top of every audience. Click that, fill out a simple form, and we'll send your audience data to your selected ad platforms where you can buy against it directly.
Audience Syndication
Audience activation is not the only way to access audiences in your preferred ad platforms and demand-side platforms. Audience syndication makes third-party audiences from data providers like Tunnl readily available 24/7 in the ad platform's audience library, giving advertisers a one-stop-shop for audience-based media buying.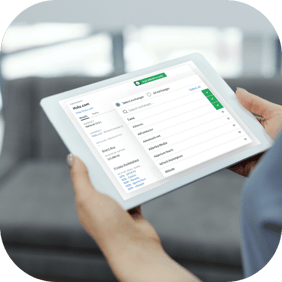 Audience syndication occurs when an advertising platform partners with a data provider to store and allow for transactions to occur on a provider's audiences in their platform.
For example, Tunnl is an audience data provider with hundreds of prebuilt audiences available for advertisers. Several DSPs and ad platforms - including Basis, Xandr, StackAdapt, and more - house our segments in their own audience libraries to make that audience data available to advertisers in one place. The Tunnl audiences housed on those ad platforms and DSPs are considered "syndicated." Thanks to audience syndication, your media planning and placement are streamlined into a single hub.
Data Usage Fees
When you activate third-party data in ad platforms, you'll incur data usage fees. Data usage fees allow for the maintenance of third-party data living inside of an ad platform. They can be calculated in a couple different ways: Cost Per Mille (CPM) and Percent of Media (POM). In some cases, like with The Trade Desk, you'll also encounter a hybrid pricing model.
We've worked hard with our ad platform partners to ensure that the fees associated with the usage of Tunnl data are sensible and transparent for our audience users. They're able to ensure your Tunnl data maintains its integrity while living outside of our own audience intelligence platform, and they're clearly defined so that you don't run into any surprises and can plan your media strategy with confidence.
Cost Per Mille
Cost Per Mille, also referred to as CPM, is one way that data usage fees can be applied when you're using third-party audience data in your ads. You may have also heard of this pricing model referred to as "cost per thousand impressions." With this model, you pay a set price (usually $1.50–$2.50) each time your audience-backed advertisement reaches one thousand individuals.
You'll encounter CPM pricing when you use Tunnl audiences to advertise on mediums like CTV/OTT, DSPs, MSPs, addressable, etc. Here's what you can expect:

$1.50 CPM on programmatic display and in most DSPs

$2.50 CPM in OTT/CTV-specific platforms

$1.00 CPM increase for premium audiences that leverage additional data
Percent of Media
Another data usage fee format is Percent of Media, known as POM. The POM model means that you pay a certain percentage of your gross media buy at once (typically 10–20%) instead of a fixed rate per thousand impressions (CPM). POM is more often preferred for smaller or more niche markets where thousands or millions of impressions are not guaranteed.
Using Tunnl audiences on major social platforms like LinkedIn or Facebook, you'll encounter data usage fees equivalent to 10% of your media buy.
Now That We're on the Same Page…
The marketing world has plenty of acronyms, abbreviations, and jargon - but now you know the terms that will help you navigate your conversations about audience-based buying and planning, particularly with Tunnl.
We find that it's easier to understand these concepts when you can see them in action. Read about our different audience types to put the audience concept into context. To explore our hundreds of prebuilt audiences with demographic and national media mix insights, and begin building your own target groups with the audience builder, connect with us for a demo of the platform where you'll see all of these terms come together to help you reach your target audiences in the most efficient way possible.