Insider | Tunnl | Products | Audiences
What Is Purpose-Driven Marketing? The Importance of Cause, Connection, and Audiences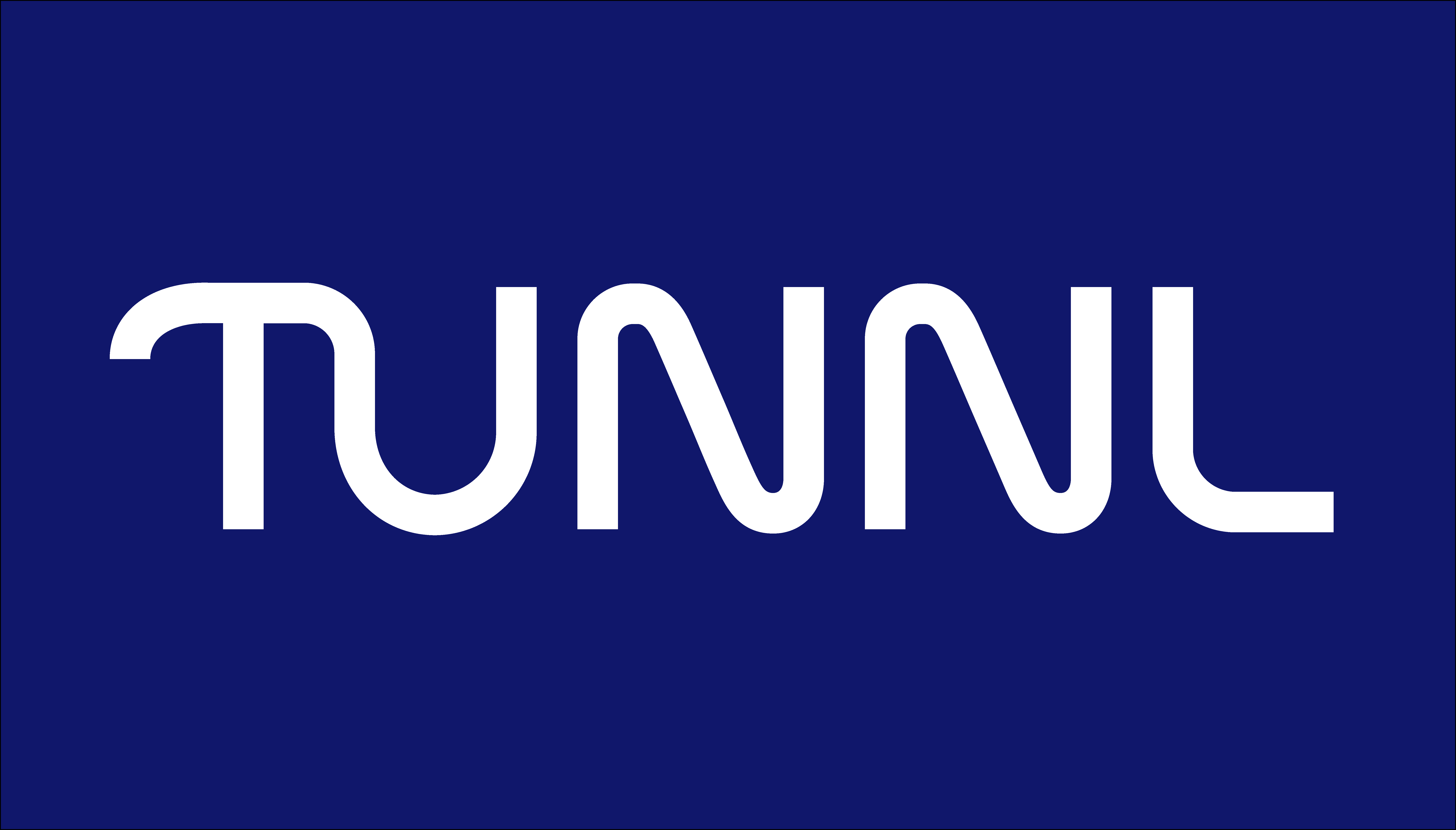 Great products and messages get lost in the sea of advertising every day because they fail to do one thing - connect with their audiences. In today's world, connecting with your audience can seem more difficult than ever.
Why?
For one, consumers are being faced with more advertising than ever before. Advertisers are competing against the other 6,000 - 10,000 ads that the average person is estimated to encounter every day (PPC Protect).
But there is another shift that many companies are not accounting for.
Consumers no longer just want to buy products. They want to buy purpose.
According to Forbes, consumers are four to six times more likely to buy from, trust, champion, and defend companies with a strong purpose. At Tunnl, we've taken notice. This is why we have been pioneering technology to power purpose-driven marketing for over 20 years.
In this article, you will learn:
Why Purpose-Driven Marketing is no longer a luxury but a necessity
Three Types of Action Consumers Want to See
How to Connect with Audiences on Corporate Action


What is Purpose-Driven Marketing?
Purpose-driven marketing goes beyond the corporate bottom line and is fuelled and centered around a particular cause, mission, purpose or vision. It's how brands meld cause and believer.
This type of marketing is driven by the realization that consumers are no longer solely focused on a company's products, they are focused on their purpose.
Purpose-Driven Marketing: Now a Necessity, Not a Luxury
According to Edelman's Earned Brand Study, 64% of consumers choose, switch, avoid or boycott a brand based on its stand on societal issues. Consumers are looking for companies that champion values that match their own ideals.
Brands that are, or should be, focused on purpose-driven marketing, potentially face business threats from changing social opinions or changes in government regulation.
A change in public opinion can cause massive problems for companies. Entire industries can be wiped out with a change in government regulation.
With the dominance of social media, these shifts in opinion can spread like never before. In fact, more than 70% of Americans are on social media.
Social Media can be a detriment to brands. However, it can also be one of their assets in how they communicate their values to consumers who share similar views. The time is now for brands and organizations to be proactive in purpose-driven marketing or else they risk getting left behind.
What Are Some Examples Of Purpose-Driven Marketing?
Everyone has seen examples of purpose-driven marketing by brands and corporations even if you didn't realize it. It is all about connecting with your audience and conveying values that also match theirs.

While there are so many means of Corporate Action, here are three types consumers want to see:
Corporate Executives Taking Action and Societal Stances
Corporations Taking on Climate Change
Corporations Taking on Diversity and Racial Justice


Corporate Executive Taking Action & Societal Stances
Today's consumers no longer want brands and corporations with anonymous leadership. They want to align with a public figure that shares their beliefs. After all, it is a lot harder to relate to a person than it is to a company.
No CEO, that we know of, has navigated this quite as well as Mary Beth Laughton, CEO of Athleta. The women's activewear giant is a big proponent of mental health. Laughton saw their vision and focus on mental health as a way to connect with consumers while also differentiating itself from prominent competitors.
Just as Laughton was being named CEO, Athleta signed its first-ever athlete, Olympic Gold medalist Allyson Felix. There had just been a fallout between Nike and Felix over a dispute with Nike for their maternity policy change.
The Athleta CEO saw an opportunity to champion their cause that had nothing to do with the products they sold, but everything to do with the values Athleta and Allyson Felix had in common.
"The way that they are doing sponsorship to me is incredible. It is focused on me as a whole—as an athlete, as a mom, and as an activist and just to be supported in that way is amazing." -Allyson Felix, Olympic Gold Medalist, Athleta Athlete
Signing Felix was just the beginning. In April of 2021, Athleta signed another former Nike Athlete, Simone Biles. Upon announcing she would be leaving Nike following a dispute over treatment and joining Athleta, Biles said, "​​I admire Athleta for their commitment to recognize and support women's individual and collective strength and, together, I believe we can help girls." Biles' statement had nothing to do with Athleta's products but everything to do with Athleta's purpose.
Normally, when sponsored athletes pull out of events brands get angry as it likely costs them money and valuable airtime. When Simone Biles pulled out of several Olympic events due to mental health reasons, Athleta CEO Mary Beth Laughton chose the opposite approach.
Following Simone's announcement, Athleta immediately released a statement saying, "​​We stand by Simone and support her well-being both in and out of competition. Being the best also means knowing how to take care of yourself. We are inspired by her leadership today and are behind her every step of the way."
How have consumers responded to this corporate action?
No one expected businesses to grow in 2020 amid a global pandemic - no one except maybe Athleta. Thanks to a heightened focus on wellness and Athleta's willingness to champion it, the activewear giant didn't see profits dip like the rest of the business world.
Instead, Athleta saw a rise in profits… by a whopping 70%.
This is just one example of when you have a corporate leader, like Mary Beth Laughton, who is willing to take public and business stances on causes they believe in, it can pay off - big time.
Corporations Taking on Climate Change
Corporations talking about climate change is nothing new. However, making environmental justice the entire purpose of your company is a relatively new (and quite bold) concept.
No one has executed it better than the company that is "in business to save our home planet", Patagonia.
Patagonia is not the only company to sell outerwear - there are hundreds of thousands that do. You could even argue that there are other companies out there that make better quality products.
But what sets Patagonia apart?
What has made Patagonia such a successful company is that they are not a product-focused company, they are a purpose-driven company. Their ability to connect with consumers time and time again is unmatched.
Patagonia takes part in many climate initiatives, but their longest-standing one is their self-imposed 1% tax. First started in 1985, Patagonia's "1% for the Planet tax" is their pledge to donate 1% of all sales to the preservation and restoration of the natural environment.

They have awarded over $140 million in cash and in-kind donations to domestic and international grassroots environmental groups making a difference in their local communities. In 2002, Patagonia expanded this initiative by creating a non-profit to encourage other companies to take the "1% for the Planet" pledge.
How have consumers responded to this corporate action?
Patagonia's purpose-driven marketing efforts position themselves against the climate-destroying corporate world. Their consumers want to be a part of that fight and Patagonia knows it. Their consumers want to be pro-environment and so they make the conscious decision to make purchases from Patagonia to help support their efforts.
Why?

Not because Patagonia's products are necessarily superior (although some could argue that they are), but because people do not want to buy what you do, they buy why you do it.
Patagonia's profits certainly reflect their base's brand loyalty - but so does public perception. The Axios Harris Poll 100 ranks the Top 100 companies in the US based on public perception.
Guess who holds the coveted top spot? None other than the company whose "business is to save our home planet", Patagonia.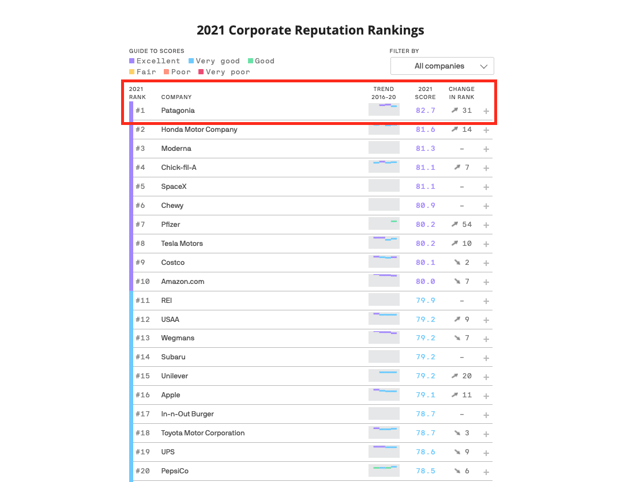 Corporations Taking on Diversity and Racial Justice
Since 1988, Nike has donned the slogan, "Just Do It."
32 years later, Nike would ask people, for the first time, to do the exact opposite.
In May of 2020, the footwear giant would advocate to the world with their "For once, Don't Do It." campaign.
This phrase was something people had never seen before from Nike - but it was a familiar message.
Nike's "For Once, Don't Do It" campaign was a call on Americans to combat racism. "Don't turn your back on racism… Don't sit back and be silent. Don't think you can't be part of the change" the ad copy read.
While the phrase was new, the message was familiar. Nike has been a prominent corporate player in driving the message against racism. They became a conversation leader in 2018 with their ad campaign "Dream Crazy '' featuring Colin Kaepernick who voiced the ad saying, "Believe in something. Even if it means sacrificing everything."
That ad campaign started a movement - and even won an Emmy in 2019.
Nike also puts their money where their mouth is. Over the past five years, the athletic giant has invested $417 million to "drive positive impact around the world."
How have consumers responded to this corporate action?
Consumers are increasingly expressing their preference for brands to stand for something bigger than the products they sell - that was very evident in the financial response to Nike's "Dream Crazy" ad.
The activewear conglomerate's stock rose 5% after that ad aired, even despite the backlash it also received.
Nike could have kept talking to a small-but-vocal crowd but instead, the brand dug in its heels and became even louder. Sticking to its values led to a boost in sales, and Kaepernick's True to 7 Nike sneakers sold out within minutes.
Nike had a message for consumers, but consumers also had a message for Nike - they wanted in.
Good Messaging Is The First Component Of Purpose-Driven Marketing
It does not matter how good your brand's message or purpose is if no one hears about it.
I know what you're thinking. Maybe you have a good message. Maybe your company has an amazing purpose. Maybe a ton of people hear about it. However, if those are not the "right" people, you are wasting your time and money.
Finding the right audience is the biggest problem people face even after they find the right message or purpose.
A successful purpose-driven marketing campaign is the connection between cause and believer.
Connecting With Your Ideal Audience
At Tunnl, we've spent over 20 years understanding how people think and why they believe certain things. We recognize the need for audiences so we help brands clearly understand their target audience and give them the ability to connect with their audiences across all screens.
If you want to learn more about connecting with audiences…
A good place to start learning about audiences is to first determine if they are right for you. Once you have made that determination, you should determine if you need standard or custom audiences (or both).
If you want to get connected with your audiences now…
If you need an immediate solution…
We get it - things happen that require an immediate response or activation. That's why we pre-built 150+ audiences that can be activated 24/7 on any medium wherever you can target audiences. These audiences include:
Corporate Responsibility
Corporate Climate Action
Corporate Diversity Action
Influentials
Online Activists
If you need an immediate solution, contact Nate Romberg, Tunnl's Senior Director of Partnership Sales. You can reach Nate at nromberg@tunnldata.com or 562-852-3800.
If you need a custom solution...
Sometimes brands have a unique niche or face a very specific challenge. We frequently create custom audiences for clients and their brand, purpose-driven, and issue advocacy efforts.If you need a custom solution, reach out to Brian Rose, Tunnl's VP of Business Development. You can reach Brian at brose@tunnldata.com or 202-809-0955.