What is Tunnl's Data Collection Process?

Audience data providers are a dime a dozen. Ad platforms offer you audience data, managed service providers offer to place media buys for you based on their own audience data, and third-party audience data sources promise improved reach efficiency with their insights. You have options.
But how do you know if you can trust that audience data? You need to know how it's collected.
Tunnl is one of those third-party audience data providers, and we sit atop decades of historical data that we pair with regularly-refreshed survey data to make advertisers, like you, audiences that work. We've spent years perfecting our data collection process, improving its accuracy, security, and scalability.
And you have a right to know how we collect data before you decide to use our audiences. Here's a peek at the components of our data collection process.
How Does Tunnl Survey an Audience?
We're not standing outside the mall with a clipboard. To create accurate audiences you can reach, we need to survey thousands of people across the nation - and we need to do it often.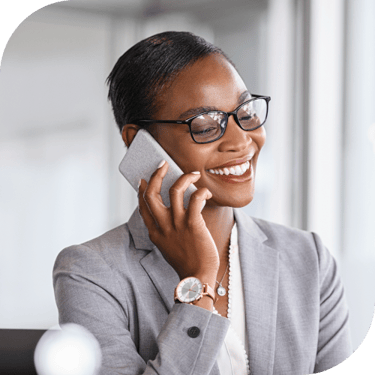 There are several survey methods we deploy to find out what people think about hot-button issues that inform their buying, voting, and giving habits:
Online survey panels - Participants respond to questions on a website.


Survey mobile apps - Surveys are delivered to app users on a mobile device.


Interactive voice response (IVR) - Recorded prompts guide participants through a survey over the phone.


Live calls - Survey takers gather participants' answers during live 1-to-1 phone calls.
Typically, multiple survey methods are combined throughout the polling process because different demographics are spread across various mediums. Roughly 70% of households don't have a landline, according to the National Center for Health Statistics, for example, so random-digit-dial methods that include mobile numbers are crucial to avoiding a biased sample.
Tunnl Tip: Building a custom audience? Some survey methods are more expensive, like live calls. Talk to your Tunnl team about the best ways to poll your targets and how those will affect your budget.
We work with a number of trusted vendors to host and distribute our national surveys every month. Local or project-based surveys can run at different intervals, depending on the project. By introducing new questions and regularly re-asking survey questions, you get answers to relevant, emerging questions and keep tabs on how sentiments change.
So, what exactly are we asking people?
What Kind of Questions are on Tunnl Audience Surveys?
Tunnl builds audiences to help brands, issue advocates, and nonprofits reach purpose-driven audiences for cause-based campaigns. So, we need to ask direct questions to probe how people feel about critical issues and how they self-identify.
That includes questions about:
Propensity - Consumers and voters tell surveyors how they are likely to shop, vote, or take action based on certain factors.

Example Audience: Black-Owned Business More Likely to Shop
Identities - Participants select the ways in which they classify themselves.

Example Audience: Pet Parents
Awareness - Participants indicate if they've heard about an issue, product, or organization.
Example Audience: Healthcare Influentials
Importance - Participants rate how passionate they are about a subject.

Example Audience: Pro ESG State Investments
Brand affinity - Consumers tell surveyors how they feel about your brand.

Example Audience: CVS Favorable
Interests - Participants rate how relevant issues, activities, or products are to them.

Example Audience:

Pickleball Interest



How are Questions Formatted on Tunnl Surveys?
While the questions we ask change all the time as issues shift and emerge in the public zeitgeist, there are five question formats we rely on repeatedly.
Demographic questions - Participants provide their age, sex, race, and other pertinent demographic information.


Multiple choice questions - Participants select a single answer from a provided list.

Select the option that best describes your position - Participants choose the provided answer that most accurately aligns with their stance on an issue, even if it isn't a perfect description of their position.

Checkbox questions - Participants select all answers that apply to them.


Rating questions - Participants indicate how strongly they feel about an issue using a rating scale.


Likert scales - Participants use a sliding number scale to rate how much they agree or disagree with a statement.
All of Tunnl's surveys are carefully crafted to avoid introducing bias to the survey participants through methods like randomizing answer order and strategic wording. We're constantly working with our panel vendors on additional ways to present questions, gather useful audience insights, and explore relevant issues, so advertisers like you can get clear answers to your top-of-mind questions.
But who we survey is just as important as what we ask.
Who Does Tunnl Survey?
There's nothing less constructive than an "I don't know" answer. When you have a question, you go straight to the person who is most likely to have the expertise to tell it to you straight. But that's the great thing about opinions - everybody has one.
When it's time to field a new survey, who we ask can vary based on two main factors.
1. What is the right geography for this audience survey?
Nationally relevant surveys go out across the nation. That one's easy. But if we're working on a project that's focused on a more localized geography, like a certain state, DMA, or congressional district, we want to ask a representative sample from that location.
2. Who meets the survey parameters?
The end goal of our survey guides who we poll. If we want to find out who subscribes to cable, surveying all age groups, income levels, and demographics is vital to obtaining accurate data. But if we want to know how people under 50 feel about potential TikTok bans, we'll only ask people in that age group to weigh in.
It is important to note that there are limitations to who we can reach with a survey. Our polling partners have access to thousands and thousands of people, but not every household in the nation. Then it comes down to who answers the phone, completes an online panel, or otherwise contributes their opinion.
The sample we survey is always representative and large enough to inform accurate audiences, but usually not on its own. That's where data modeling comes in.
How Does Survey Data Become an Audience?
Survey data forms the foundation for Tunnl audiences, but there's more to them than that. Because effective ad targeting depends on a suitable audience scale, the number of people surveyed may not be enough to move the needle on your message, even though they're a representative sample.
So, how do you take what you learned from a survey and target an opinionated population at scale?
We use data modeling. Modeled data uses survey data to predict how other people who share characteristics with your sample would respond to your survey questions.
How Does Tunnl Ensure Audiences are Accurate?
In some instances, survey data gets matched to voter or consumer files provided by data partners like Acxiom or L2. This can help Tunnl verify the validity of self-reported data and improve the accuracy of our data models.

No matter what the survey data's ultimate form - prebuilt audience or custom audience - security and data integrity take top priority as Tunnl collects, models, transports, and maintains our audience data. You can enjoy the perks of sound and accurate audience data infrastructure for your campaigns across Tunnl and its partners without adopting the liability that usually comes with such information.
And speaking of accuracy, our data collection process is never one-and-done. When you work with consumer and voter sentiments on fast-moving, high-value issues, there's no room for stagnant data. We conduct surveys monthly and constantly receive updates from our data trust partners to refresh our audiences, keeping you up-to-date for efficient targeting at all times.
Is Tunnl the Right Audience Data Provider for You?
Audience data is a big deal; it must be reliable, accurate, and secure. Otherwise, you're putting your budget and reputation in jeopardy - and that's not a risk worth taking when audiences care more than ever about privacy and company ethos.
You're right to investigate the provenance of your audience data and to keep digging deeper even now. As you research potential data partners, keep their data integrity in mind and plan ahead based on the top data security issues advertisers like you are liable to encounter. Find out not only how other audience providers collect their data, but what they do with it, like how Tunnl builds audiences.
The journey Tunnl data takes can be quite varied, but the destination is always the same: reliable, issue-based targeting for your cause marketing campaigns.