The Ultimate Guide to Tunnl Free: Everything You Need To Know Before Signing Up

Your campaign is nearly planned: The budget is set. You know who you want to reach. Your message is clear, compelling, and critical. But something is stumping you, which could spell disaster for your ad spend.
How are you going to reach your audience?
Knowing the who is half the battle, or really only a third of it. Nailing the where and how of audience identification can make or break your ad campaign. We've seen it firsthand in the hundreds of brands and agencies who have turned to our custom and prebuilt audiences.
To help get your message to the right people in the most efficient way possible, we built Tunnl Free, a Tunnl platform tier designed to help you identify your campaign's audience and reach them where they're most likely to engage with your message. And we made it free.
But are the hundreds of prebuilt audiences in Tunnl Free the answer to your audience identification gaps? Candidly, it may not be exactly what you need if you're advertising in certain areas. Let's take a look at what Tunnl Free is, what it does, who it's for, and how it can help you reach your audience more efficiently. From there, you'll be equipped to decide if creating a free account is your best next move.
What is Tunnl Free?
Identifying the right audience and the best ad platforms to suit your campaign's goals and budget is an hours-long endeavor packed with painstaking research.
Or it could take you a couple of seconds. And cost you nothing.
After all, time is money. You don't need another tool taking up your time unless it is absolutely worthwhile within seconds of getting started.
Tunnl Free delivers demographic and media consumption insights into hundreds of prebuilt audiences to guide your campaign planning. As if the time savings aren't enough, everything you can do in the platform is totally free.
But let's not get ahead of ourselves: You need to know what's in there before you create your free account and start poking around (because it really is that simple; once you sign up, you're off to the races).
What to Expect When You Work with Tunnl
You need to get your message in front of people who care about the issues you're rallying around. You may even have an idea of who they are. But understanding how you can efficiently reach them is harder to determine without a ton of time on your hands and a lofty budget to boot. You need a one-stop audience identification platform that makes it easy to find and reach your ideal audience.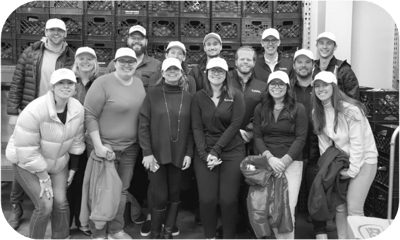 Tunnl Free gives you unrestricted access to hundreds of prebuilt audiences centered around strong opinions, personal identities, and known behaviors. They are all just a search away, and activating them in your ad platforms only takes a couple of clicks.
We are not an agency, and we don't buy media. We work with agencies and empower advertisers to amp up their campaign efficiency using real consumer and voter sentiments to get their message in front of people who care.
In Tunnl Free, we have three major methods to make that happen.
The Three Key Features You'll Find When You Log In
1. Audiences and Insights
The magic begins in the Audiences and Insights section of Tunnl Free. It's where you can find the right audience for your campaign, whether that's one of our hundreds of prebuilts, a custom audience you've commissioned, or a subscription to a premium audience.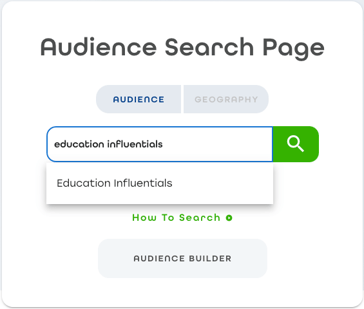 For instance, say you want to target high-turnout voters who tend to stay informed about education news.
All you would have to do is type "education" into the search box to see what's available and start assessing those audiences. You'll see details about not only who they are but also where they get their media.
It's ideal for determining the size of your target audience and unlocking key insights without needing outside players to pitch in, giving you a massive jumpstart when:
Planning campaigns

Setting budgets and planning for fees

Identifying cross-sections and niches

Working around tight deadlines
"It's an agency or media buyer's best friend. You can go right into the platform and pull audience counts yourselves within seconds, any time," says Teddy Kamody, Tunnl's Director of Agencies. "It's a great tool to have not only for when you're buying, but when you're planning buys and getting ready as well."
This is square one for going digging into demographic details on your target audience, assessing the platforms they use most, and activating those insights in your ad platform.
2. Advanced Search
The free Advanced Search tool is best put to work when your needs are more complex than assessing a single audience.
In this portion of the platform, you can slice and dice different audiences until you've reached the precise audience your campaign demands. Consider the Education Influentials audience once again. What if we want to go deeper?
Say, instead, that we want our campaign to speak directly to people who care enough about education to put their money where their mouth is if it'll move the public policy needle or elicit favorable outcomes for schools. Let's see how many people fall into that niche audience by overlapping Tunnl's Education Influentials audience with the Potential Education Donor audience.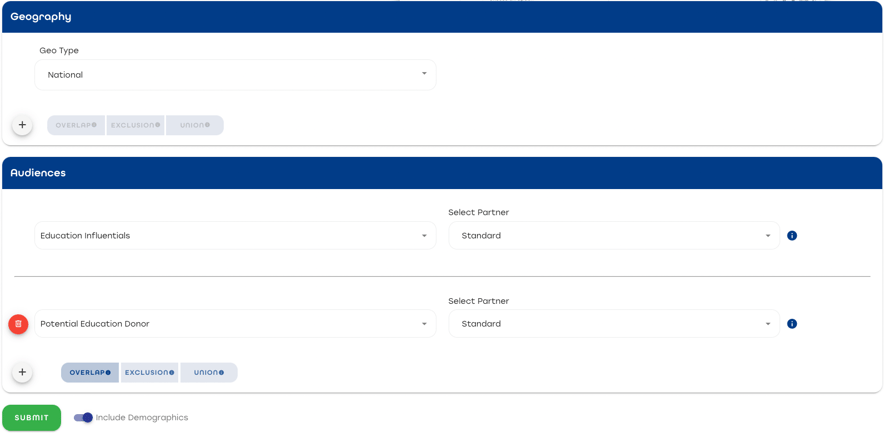 Now, we get to see which profiles fall into both categories: Avid education news followers and motivated voters who are likely to donate to educational causes.
This is an example of the overlap feature. You can also exclude audiences or create unions between multiple audiences.

Overlap: Identifies individuals who appear in all of the selected audiences and generally results in a smaller audience count.

Exclusions: Retains target audience criteria while removing any individuals who are in any of the excluded audiences from the final audience count.

Unions: Identifies individuals who appear in any of the selected audiences and generally results in a larger final audience.

Be careful here; Too much slicing and dicing can make your audience unusable. Since every layer modifies your audience size, keep an eye on counts with an eye for how large your target audience ought to be.

Need more flexibility? The Audience Builder in Tunnl Plus improves upon the Advanced Search tool, introducing the ability to build custom audiences based on streaming and linear TV viewership, hone in on specific geographic radiuses, and set demographic parameters for more tailored targeting.
3. Audience Activation

The Audience Activation feature is the fastest way to put Tunnl Audience Insights into action. Once you've found the audience you want to target, use the Activate button to send them to your desired ad platform.
You'll be met with a form to fill out, which prompts us to cue up the audience for you in the format you need for your chosen ad platform. And don't worry; you won't be waiting long. Our team is always ready for these requests to come through, so we never slow down your campaign planning.
So those are the key features of Tunnl Free, but what can they really do to accelerate your media buys? The answer is plenty, but let's break it down.
What Can I Do in Tunnl Free?
As you poke around in the Audience and Insights tool or slice and dice in Advanced Search, there's plenty to unpack. Here's what you can expect when you start exploring.
1. Get the Bigger Picture with Demographic Data
Every Tunnl audience includes the following information:
Count

Geography

Age

Income

Race

Political Party

Sex

Education

Marital Status

Children in Household
Not only can you see these details for your audience, but you can compare them against national averages to see how your target stands out from the crowd.
2. Go Granular When You Filter by Geography
Every audience starts at the national level by default, but Advanced Search can give you a closer look at particular locations.
With our geographical filters, you can see how an audience count shifts according to
State

City

County

Zip Code

DMA (Designated Market Area)

DMA By State

CD (Congressional District)

State Senate

State Legislature
3. See Where Your Audience Spends Their Time
Why waste your budget on campaigns nobody will see? Your target audience is hanging out on certain ad platforms, and you can find out which ones with Tunnl's media mix insights.
This will show you everywhere your audience is spending their time, from the social media apps they are scrolling to the streaming services they use.
4. Strategize on How to Split Your Budget According to Media Share
Knowing where your audience spends their time is only half the battle. The other half is understanding how much time they spend in each spot. The Share of Media Consumption section takes the media mix insights a step further to put that into perspective.
It shows which platforms are taking the lion's share of an audience's time, so you can allocate your budget accordingly.
5. Layer, Delineate, and Unify Audiences for Unique Insights
Combining different audiences is how you'll find your most focused pool of people to target. Combining geographic filters, unions, exclusions, and overlapping audiences, you will identify the perfect audience for your campaigns with just a few clicks.
Phew. That's a lot.
And while there is plenty to do in Tunnl Free, you will see a few greyed-out options when you first sign in. That's because there is still more waiting for you - only if you need it.
What You Won't Find in Tunnl Free
Tunnl Free has staying power; you may never need more than what it offers. But there are features you'll miss out on if you never up your investment.
While Tunnl Free is a great place to start for any advertiser or agency who needs access to motivated audiences immediately, it won't work for everyone forever. It's time to graduate beyond Tunnl Free if your ad strategy demands any of these insights:
✅ Local media mix breakdowns to see what your audience has their eyes on locally

✅ Local TV ratings that show you which programs have the best reach and density for your audience

✅ Comparisons showing which portions of an audience are high or low linear TV consumers vs. high or low TV streamers

✅ Paid and earned media measurement

✅ The ability to create new audiences based on TV consumption patterns

✅ A ranking of which cable channels are most popular with your audience

✅ Reach and frequency totals for linear TV as campaigns

✅ The opportunity to build new audiences based on who has seen your linear TV ads and how often
Notice the pattern? If you're sticking to national digital ads and staying away from TV, you may never feel the need to go beyond Tunnl Free for your platform tier. When it's time to add TV into your ad strategy or you need to access local media mix insights, then Pro and Premium will be ready to scale with you.
Otherwise, sticking with Tunnl Free and growing into a custom audience or premium U.S. Policy Opinion Makers audience subscription may be the best fit for you.
Okay, but Is Tunnl Free Actually Free?
With so much to do, "free" often feels too good to be true. There's always a catch, right? Insights this powerful and immediate ought to come at a cost, and indeed, they cost millions of dollars to deliver. But we're always in a giving mood, so they are yours to explore entirely free.
"Our audiences are built on millions of dollars and thousands of hours of data collection and aggregation - and they are at your fingertips for free," says James Wartman, Tunnl's Director of Audiences.
Tunnl Free is also yours to use without limits. It's not a free trial that will cut you off right at the crux of planning a critical campaign. There will never be a popup in the platform alerting you that you've exhausted the number of audiences you can activate this month. You're in, and it's yours. Plain and simple.
Expect Data Usage Fees in Ad Platforms - But Not in Tunnl Free
Browsing audience insights, combining different audiences in Advanced Search, and checking counts to see who is included in each audience are all free-to-play activities with Tunnl. It's when you leave that you'll need to whip out your wallet.
Usage fees kick in when you activate your chosen segments in downstream platforms like Simpli.Fi or directly in social media ad managers - a common factor to consider when shopping around for any third-party data provider. These will only hit when you activate Tunnl audiences in the ad platform of your choice, and they vary based on where you're running ads.
10% of media in major social channels (Facebook, Twitter, Snapchat, Linkedin, Pinterest)

$1.50 CPM on programmatic display and in most DSPs

$2.50 CPM in OTT/CTV-specific platforms

$1.00 CPM increase for premium audiences that leverage additional data

When applicable, custom pricing accounts for third-party platform requirements like TheTradeDesk's imposition
But don't let that stop you from poking around in the free version of Tunnl. You won't see a single fee unless you opt into audience activation by clicking on the big "Activate" button.

These are deeply curated audiences that align with your causes, issues, and interests. You will save thousands of dollars in ad spend with the insights you find there, like where your audience is and who they actually are - contrary to the spray-and-pray methods of old.
It's a new way to wield the power of audience insights and save a pretty penny along the way - all without slowing or stalling your campaign planning momentum.
How to Get Started with Tunnl Free
Knowing a solution exists isn't enough to alleviate your audience-building headaches - or satisfy the clients inundating your inbox with last-minute campaign requests. What will do the trick is creating a Tunnl Free account, which takes all of two seconds to do.
Everything we've covered here - tons, I know - is easy to apply once you're in there. Audience counts, media usage insights, and flexible audience building… it's at your fingertips for free upon login. Learning more about how advertisers apply them to campaigns and what to do when it's time to activate audiences will help you get off the starting block even faster.
But if you have questions, now or ever, there's a dedicated team ready to help you navigate your new best friendship with the Tunnl platform. Whether you need an initial or refresher demo to get into the swing of things or you have more nitty gritty questions about how we work as a company, we're ready to connect the dots so you can start connecting with your target audience immediately.