How to Use Tunnl's Advanced Search for More Granular Insights


Amanda joined Tunnl in April 2022 and currently serves as the Senior Director of Customer Success.
Audience insights offer an incredible view into the individual people you are trying to reach with your advertising. Everything from their demographics to where they consume their media informs your marketing strategy to appeal to the human behind the screen.
Tunnl offers hundreds of audiences that offer deep, granular insights about how people feel across today's most top-of-mind and hot-button issues. By connecting your advertisements with your audience on a deep, human level, you are more likely to influence your core market to take the actions you need.
But what if you want to slice, dice, and layer different prebuilt audiences to get even more granular insights?
Doing so is entirely possible within the Advanced Search function in the Tunnl platform. In this article, we'll walk through exactly how you can slice, dice, and layer audiences using Advanced Search so you can begin leveraging the exact insights you need against your advertising campaigns.
Let's get started.
Step #1: Create a Tunnl Platform Account
If you haven't done so already, you need to create a free login to access the Tunnl platform. Only within the platform can you access Tunnl's Advanced Search, which allows you to slice, dice, and layer different prebuilt audiences to receive unique counts and data.
Your free Tunnl login enables you to conduct the simple functions of uniting, excluding, and combining multiple issue-based audiences to build a suitable audience based on multiple issues and geographies.
For even more granular control and flexibility in the audiences you build, Tunnl Plus contains an Audience Builder that improves upon our Advanced Search function to enable:

Demographic filtering
Targeting based on the radius around a specified location
Saving DIY custom audiences for future use and reference
Sending DIY custom audiences to colleagues or clients

To explore the differences between Tunnl Free and Tunnl Plus, check out our article, "How to Pick Your Platform Tier: Tunnl Plus vs. Tunnl Free."

Whichever platform tier you choose, creating a Tunnl account and accessing the Advanced Search tool is simple.
If you are new to Tunnl, follow these steps to get started . . .
Navigate to the Tunnl Free signup page
Sign up for free using the form provided
If you are an existing Tunnl client, the following instructions are for you . . .
Ask your Tunnl account representative for your new login credentials, or send an email to

productsupport@tunnldata.com

Keep an eye out for an email titled "Tunnl Platform Registration"
Receive your log-in credentials and password
After logging in for the first time, set your own unique password
Running into issues creating your Tunnl platform account? We're here to help. Check out our Tunnl Platform FAQ, or send us an email describing your issue so we can help you get set up as soon as possible.
Step #2: Access the Tunnl Platform
Once you're in the Tunnl platform, you will be presented with three tabs — audiences & insights, planning, and measurement.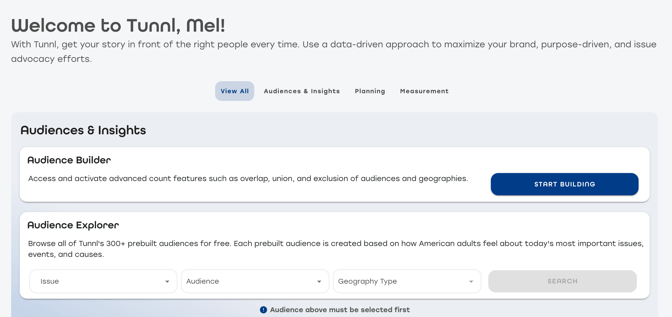 If you are looking for your ideal audiences . . .
You are in the right place. You can begin your search directly on the platform home page or click on "Audiences" to be taken to the Audiences search page. In both locations, you can search for your ideal audiences based on keywords or geography.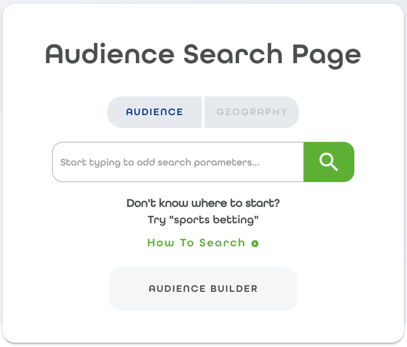 Once you have explored our selection of prebuilt audiences and found the ones ideal for your advertising campaign, proceed to the next step.
If you already have your ideal Tunnl audiences . . .
You're ahead of the game. Click on "Advanced Search" to be taken to the layering tool. Here, you'll be able to slice, dice, and layer your audiences against one another.
Step #3: Begin Layering Audiences In Advanced Search
Once you are in the Tunnl platform and have found your ideal audiences, you are ready to execute more complex queries of audience data by overlapping, uniting, and excluding audiences against one another and/or against various geography types.
First, ask yourself: Do you need specific geographic data to be included in your "new" audience?
If you need to include a specific geography in your search . . .
Click the drop-down menu under "Geo Type." There, you can choose the type of geography you need included in your search. Your geographic options are:
National
State
City
County
Zip Code
DMA (designated market area)
CD (congressional district)
CD Next Election
State Senate
State Senate Next Election
State Legislature
State Legislature Next Election

If you do not need to include a specific geography in your search . . .
Select "National" under "Geo Type," then move down the page to the "Audiences" section.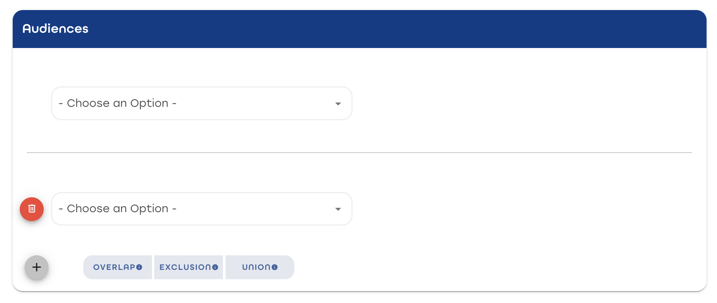 Once in the "Audiences" section, select the ideal Tunnl audience that you've chosen to leverage in your advertising campaign. You can choose one or more audiences, depending on what you are trying to accomplish. To layer more audiences, click the + button.
What is the difference between Overlap, Exclusion, and Union?
You have three different ways to layer your audiences and geographies: by overlapping, excluding, or uniting them.
An overlap identifies people who are in all of the audiences and/or geographies you choose.
An exclusion retains people who are in your target audience or geography while removing those who are also in your excluded audience or geography.
A union identifies people who are in any of your target audiences or geographies.
What happens when you toggle "Include Demographics"?
The "Include Demographics" toggle is an optional choice if you want to gain additional information on your new "audience."

Including demographics means that your audience will be broken down by sex, political party, age range, ethnicity, voter status, income level, marital status, education level, children in the household, and geography. You will also receive your new audience's number of unique households and cell phones.
Step #4: Send Your Audience Insights to Your Platform of Choice
Once you have selected your audiences and geographies to layer, as well as chosen how you want to layer (overlap, exclude, or unite), it's time to choose the platform you'd like your audience to be delivered to.
Tunnl's "partners" are CTV, OTT, programmatic, and digital media buying platforms that include Tunnl audiences as options for their users.
Click the "Select Partner" drop-down menu and choose from the options provided.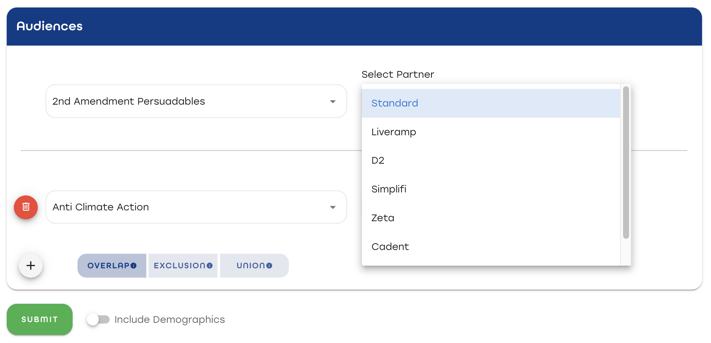 If you want to activate your audience traditionally . . .
You can activate your Tunnl audience through traditional methods, such as linear TV, mail, phone calls, and peer-to-peer texting.
Choose "Standard" as your partner.
If you want to activate your audience digitally . . .
You are also able to activate your audiences through digital advertising mediums, such as OTT, CTV, social media, and programmatic.
Choose your preferred partner from the drop-down menu.
If your preferred partner is not included in the available options, no problem. You can directly download your audience insights from within the Tunnl platform to then do with as you please. Moreover, we can work with LiveRamp to get your Tunnl audiences into your platforms of choice. Reach out to us at productsupport@tunnldata.com.
Once you have accessed your new insights, click the green "Download" button.
Begin Creating Unique Audiences In the Tunnl Platform Now
The Tunnl platform offers advertisers hundreds of prebuilt audiences built on today's most pressing issues and niche groups. Should you need further insights into your ideal Tunnl audience, using Advanced Search within the Tunnl platform gives you the opportunity to delve even deeper into your core market.
By layering various Tunnl audiences and geographies, you can gain an even more detailed understanding of the real people you're trying to reach.
To build your own audience solutions based on demographics, geographic radiuses, and more, consider upgrading to Tunnl Plus for access to the Audience Builder tool.
Don't see your ideal audience in the Tunnl platform?
Even though Tunnl is hard at work regularly refreshing and updating our audiences, you may require an audience for an extra-niche issue or very specific geographic region.
If so, a custom Tunnl audience may be the right fit for you. Learn more about Tunnl's custom audience solutions in our Resources Library, or if you're ready to get started right now, contact sales.