Tunnl for Media Buyers: Smarter Digital Media and Linear TV Buying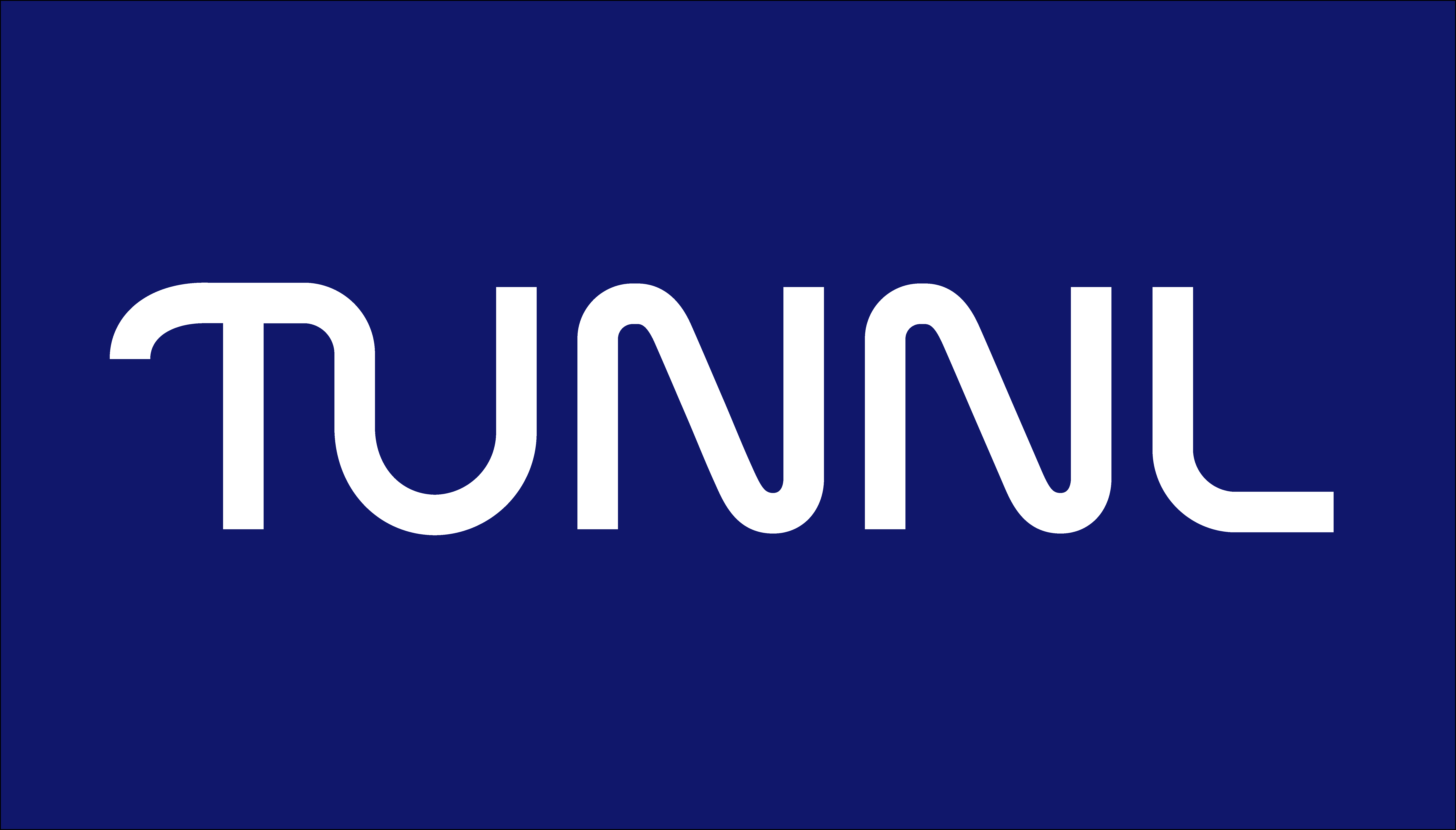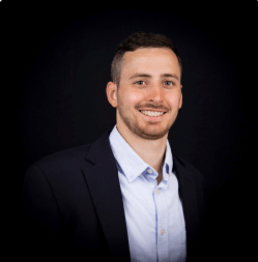 Teddy joined Tunnl in January of 2020 and currently serves as the Director of Agencies.
You may understand this by now, but let's state it outright: Tunnl does not buy or place media. On occasion, we will run into confusion when talking to prospects about our role in the media buying process. We like to illustrate this point, especially when it comes to our linear TV optimization.
Media buying is still as much an art as it is a science, and there are great buyers out there who have mastered their craft. We love working with media buyers, and at the end of the day our role is to provide the data to drive the science in their buying.
That being said, our products are designed with the ability to be utilized for various kinds of paid media - whether it's:
OTT/CTV
Social Media
Demand Side Platforms (DSPs)
Managed Service Providers (MSPs)
Addressable TV and VOD
Digital and Terrestrial Radio
P2P Texting
To make this possible, we have multiple workflows to serve the varying goals of our clients across all mediums. This stems from our belief that it is critically important that you can reach your target audience across platforms.
We work with media buyers across all mediums - but in this article, we will take a look at two buckets of media buyers we work with most:
Digital/programmatic Media
Linear TV


Working with Digital Media Buyers
While linear TV remains king for advertising dollars, the media time gap is incredibly diversified. According to eMarketer, linear TV viewing will account for just under one-fourth of US adults' total time spent with media this year. Advertisers need to react to these shifting consumption trends with new strategies to navigate the overwhelming amount of content platforms and devices that are now used frequently by consumers.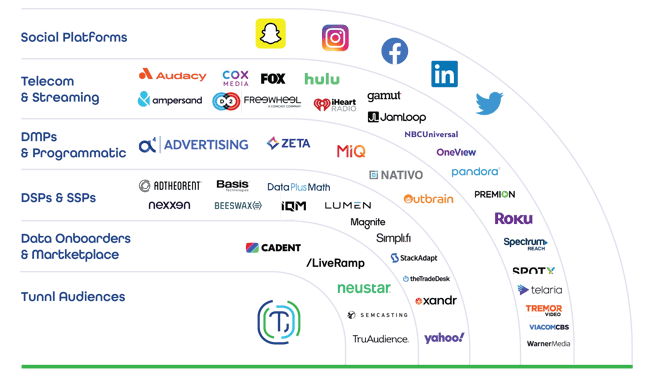 At Tunnl, we address this issue by focusing on the audience. We believe it's critical to make sure you're talking to the individuals who are most receptive to your message. We also know it's important to reach these addressable audiences wherever they spend their time.
That is why we match our audiences with premium publishers and addressable advertising platforms. These relationships allow you to reach your audience directly where they're spending their time — whether you're using a managed service provider or your preferred DSP. Here's how it works.
Step 1: Determine the Target Audience
The first thing we will do in any digital engagement is to determine the audiences the client wants to target. This can include custom audiences built by Tunnl or one of our prebuilt audiences.
Step 2: Distribute Target Audiences to Platforms
In several cases, this step is already done. We leverage our observed viewership data to cut our prebuilt audiences based on how they consume media and distribute them to our partner addressable platforms. If you're working with any of those platforms, you can skip straight to activation. If you do need audiences in a platform that doesn't already house our prebuilt audiences or need to distribute custom audiences, you can work directly with our partnerships team to get audience data wherever you need it.
Step 3: Activate the Audiences
Once the addressable audiences live in all of the appropriate platforms, start running your paid media campaign to the individuals who are most receptive to your message.
Key takeaway: Tunnl can ensure your audiences are available wherever your buying team needs them, across all mediums.
An audience is only as good as your ability to reach it.
Our clients and their digital buying teams are experts at delivering creative and messages. It's our job to make sure you've identified the correct audience and can target them on the right platforms.
Working with Linear TV Buyers
Tunnl was founded on the idea that TV buying could be more data-driven and, most importantly, more efficient. Our founders were the first people to pioneer this technology back in the early 2,000's.
Since then our clients have spent $2 billion using our linear optimization technology that garnered $2.5 billion worth of advertising - an increased efficiency of 25% worth over $500 million.
So what does that mean? It means buyers can deliver more impressions for their clients with the same budget.
Tunnl does a lot of TV optimization - but what do we not do?
One thing we have never done is place a TV ad. We don't do it; we aren't buyers. Tunnl believes that TV buying is still as much an art as it is a science. What we do provide for our clients and their buyers is the best data available to help them craft the best plan for their TV ad placements.
Tunnl + TV Media Buyers - the Dynamic Duo
Now that we have covered what Tunnl does and does not do, here is the process of how we work with TV media buyers - step by step.
Step 1: Determine the Target Audience
The first thing we will do in any linear optimization engagement is to determine the audiences the client wants to target. This can include custom audiences built by Tunnl or by someone else, or they can choose from one of our hundreds of prebuilt audiences.
Step 2: Create Custom Ratings for that Audience
Once we've determined the audiences that you're keen to target, we will match these audiences into our observed viewership data which drives our ability to create custom audience ratings for buyers to use to build the most sophisticated plan possible.
Step 3: Buyers Access the Data via their Tunnl Dashboard
All of this data lives within a Tunnl password-protected dashboard that buyers and clients have access to. This dashboard will be the foundation for determining the best programs to reach your target audience.
In addition to this dashboard, Tunnl can and will also match rate cards from our buying partners to these custom audience ratings and produce files that can be uploaded directly into buying software like STRATA to make the planning and buying process even easier.
Tunnl: Powering More Efficient Media Buying
Our goal is to provide our clients and their buyers, whether TV, digital, or both, with the comprehensive data possible to drive their planning and buying strategies. Our platform and partners will ensure that your brand or organization has all the tools necessary to deliver the most targeted paid media plan possible.
If you are a Media Buyer…
If you are a media buyer who wants to explore what a partnership with Tunnl would look like, contact Amanda Peterson Beadle, Tunnl's Senior Director of Customer Success. You can reach Amanda at abeadle@tunnldata.com.
If you want to keep learning…
Media optimization is an art and a science. To keep learning, check out this article that dives deeper into the cost of smarter tv targeting.