Tunnl | Audiences | Media Optimization
Maximizing the Benefits of First-Party Data for Advertisers: Risks & Rewards

A few years ago, Think With Google reported that 92% of leading marketers believed their growth depended on using first-party data to understand what people wanted. Now reports from Acquia and Vanson Bourne are showing 88% of marketers saying first-party data is even more important than it was two years ago.
The approach of a cookie-less future has thrust first-party data onto an unprecedented pedestal. But is it enough to accomplish your campaign goals on its own?
Marketing data and trends have evolved countless times in the last few decades, with microtargeting following suit to keep advertisers on the cutting edge. But first-party data has always been commended as a must-have. While first-party data alone is a solid starting block for your ad campaigns, it may need some help to go the distance for optimal results.
Data partners like Tunnl empower data-driven ad campaigns in everything from the brand reputation to issue advocacy sectors and even politics, helping advertisers like you enrich, enhance, and maximize their first-party data for more impactful campaigns. Let's break down what makes first-party data so important to advertisers and how you can amplify that value with additional data support.
What is First-Party Data?
Any data you collect on your own qualifies as first-party data. Whether that's the names and phone numbers of advocates who signed your petition, a user's website settings remembered using first-party cookies, or the email addresses of your organization's members, first-party data was provided to you directly.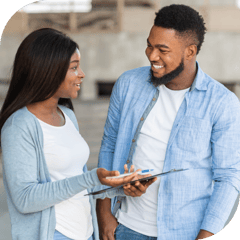 First-party data can be collected in a number of ways, including forms and surveys, and gives your constituents a chance to stay tethered to your organization. It can also tell you a bit about the people in your network, depending on what you ask.
For example, Tunnl conducts surveys to collect first-party data on how people throughout the nation feel about current issues, things they enjoy, and habits they have, helping advertisers to connect with their audiences more personally.
Combining your first-party data with Tunnl's allows you to expand on the already-immense power of your indispensable database for even greater reach efficiency.
Let's first unpack all the things you can do with the data you've collected yourself - your first-party data.
What are the Benefits of First-Party Data?
Every bit of data you have to inform your campaigns is extremely valuable. First-party data has a reputation for being particularly precious to advertisers for a couple of key reasons.
Reason 1: First-Party Data is Considered Highly Reliable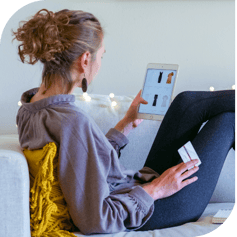 Because first-party data is self-reported or observable information provided to you directly, it is considered a highly reliable data source. You don't have to question where the data came from.
First-party data collected through online transactions, like what someone purchased or donated and which messaging prompted them to take action, is highly accurate and thus extremely reliable because it is observed and immutable. Though it may not explain all of the nuances in their decision-making, you can still tell what a customer or constituent is interested in based on their actions.
For contact information provided through sign-ups and opt-ins, you would hope it was provided in good faith, meaning that it is authentic, usable, up-to-date information and that the people providing it are genuinely interested in what you're offering. However, it's best to consider this first-party data with a grain of salt. We all have emails we use when we want to send offers into a promotional wasteland and avoid cluttering our main inbox. And even some authentic information may not come from qualified or high-quality contacts.
The best way to maximize the reliability benefit of first-party data is to scrutinize and verify it according to your campaigns' needs. Pinpoint the contacts who think and behave in ways aligned with your campaign's goals, then make the most of this next first-party data benefit.
Reason 2: First-Party Data Allows You to Retarget Your Contacts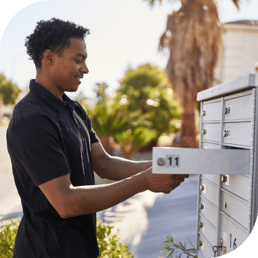 A main motivator in collecting first-party data is understanding and connecting with your customers and constituents. So, it's no wonder that one of the major perks of first-party data is being able to use it in retargeting efforts that reengage your existing contacts to work with you again.
But there are only so many people on your existing list, and their buying potential isn't infinite. That's one of the downsides of an advertising strategy built solely on first-party data.
4 Disadvantages of Using First-Party Data Alone
Data-driven campaigns work to your advantage. Full stop. That being said, the more data you have, the more accurate and efficient your campaign can become. While helpful, necessary, and practical, there are limitations to advertising with only first-party data - but they can all be resolved through data enrichment and enhancement. Here's what you need to keep in mind and how to preemptively improve your data.
1. Limited Scope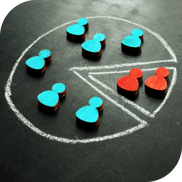 The biggest problem with only using first-party data for ad targeting is how much it narrows your potential reach. You can only advertise to people you've already made contact with who have opted in to receiving further communications from you. While this is a solid way to reconnect with your current base, it fails to bring in new leads, customers, donors, etc. You won't be expanding your audience with first-party data alone.
Solution: Commission a lookalike audience to find more potential customers who share similarities with your first-party contacts. Platforms like Facebook can provide lookalikes, or you can have data partners like Tunnl create them for you. Going with a data partner often gives you more flexibility and access to a wide breadth of national or local data, but both solutions expand your potential reach.
2. Outdated Information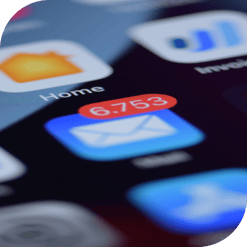 Things change. When someone adds their details to your advocacy registry, they're likely putting in their current information - where they live, what email address they prefer, etc. - but those details don't stay the same forever.
When you rely solely on first-party data, you're banking on your contacts to maintain the same information or update you when it changes. Some of them may be diligent about updating their records with you, but others will let you land in an unattended inbox or send mail to their old address without a second thought.
Solution: Link up with a data partner who can match your first-party data to voter and consumer files that are regularly refreshed. You'll no longer be dependent on the information your constituents typed into a form years ago because the data will be automatically updated as addresses, contact details, and other information are updated in those other data sources.
3. Fewer Insights
With first-party data, you only know what your contacts tell you on paper or reveal in their online interactions with you. But is that really enough to launch a personalized, omnichannel ad campaign that resonates with them and people like them?
A downside to only using first-party data to learn more about your audience is that it can take a while to get all of the information you need. Put too many fields on a form, and your constituents will get fed up, leaving information unanswered. Don't ask enough, and you're left with only the most basic information about your audience. Even then, the information you collect offline may not be readily available for use across digital and TV campaigns, slowing you down even further.
Solution: Enrich your first-party data with deeper audience insights like their media consumption patterns. Data partners are able to provide this information based on data onboarding and matching similar to what's done to create lookalikes of your first-party data. Enriching your first-party data with deeper audience insights, like media consumption patterns, can help you reach and resonate with your audience more effectively than relying solely on first-party data.

Your offline and online data will also be combined in a single audience intelligence platform, streamlining analysis, media planning, and ad buying across all channels.
But be careful about which data partner you choose. The data they use to enrich your first-party data is only as good as it is accurate and secure.
4. Data Compliance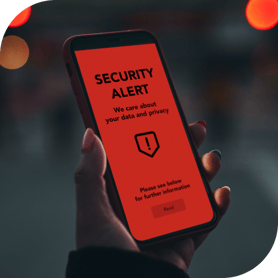 Advertisers are more vulnerable to data breaches than they may think. Consider your own security measures and infrastructure. They are respectable, to be sure, but is staying up-to-date on current privacy compliance laws throughout the country and investing in security improvements the utmost priority for your team? If you're like most agencies and advertising teams, that's not a luxury you have, unfortunately.
The regulatory landscape is evolving quickly, and keeping up with new and changing privacy legislation is a full-time commitment that requires an expert staff and substantial funding.
Solution: Increase your data's integrity by entrusting it to a data partner who makes data privacy their top priority and constantly evolves to comply with new regulations.

But you may be thinking: how is giving my data away safer than having sole control over it?

When your first-party data lives inside a data technology company whose entire infrastructure is built for security and privacy compliance, you free yourself from the stress and expenditure of scaling your in-house data security. The other solutions we've covered would come with the perk of storing your first-party data in a highly-secure environment, at least when you partner with Tunnl. Your first-party data stays protected, gets updated regularly, and can be enriched with third-party data if you so choose, all in one secure, compliant place.
Maximize Your First-Party Data to Improve Ad Performance
First-party data is a cornerstone in the foundation of your advertising strategy. But as crucial as it is, first-party data can let you down if it's the only information you have on hand. Missed opportunities and bigger vulnerabilities leave obvious gaps in first-party data's potential for your campaigns.
Solutions are out there. By enhancing and enriching your first-party data with third-party data, you can learn far more about your audience and reach them more efficiently and effectively. There are multiple ways to get more out of your first-party data, and Tunnl can help you find the right solution aligned with your goals.