Tunnl | Audiences | Cost | Platform
Why Does Tunnl Premium Cost $10,000/Month?

There are clear wants and needs in our lives. Luxury cruises and tickets to the playoffs vs. food and shelter.
But then there are the things that could be argued either way. Things like a car or the latest iPhone.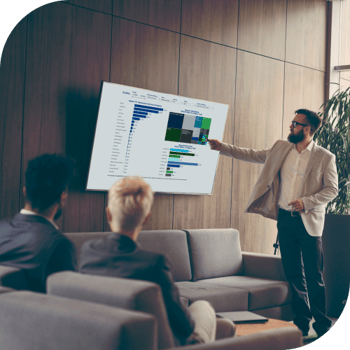 Do you need it? Maybe not, but if you're a fast-moving professional juggling offsite meetings and on-the-go tasks at all hours, these nice-to-haves become must-haves that make or break your ability to do your job well.
The tools in your audience intelligence tech stack probably get a similar treatment. Some are spartan and get the job done. Others get the job done at a premium level of accuracy, excellence, and autonomy. What once was a neat add-on is now a necessary piece to your media planning process.
As they revolutionized the linear TV advertising industry through advanced audience intelligence and microtargeting, Tunnl's co-founders identified the critical insights issue-based advertisers and brands needed to target audiences to the highest degree of efficiency at scale. Those solutions are now delivered in the various tiers of the Tunnl platform.
But one of our solutions is a must-have masquerading as a luxury: Tunnl Premium.
It's an elite tier with our most in-depth audience insights, media planning tools, and optimization opportunities for serious linear TV advertisers - but it isn't for everyone. At $10,000 per month, a Tunnl Premium subscription is a big deal, and only you know if it will fall into the want or the need category for your campaigns.
So, is Tunnl Premium worth every penny? We'll lay out the facts and let you be the judge.
Why Do Premium Audience Insights Cost So Much?
Tunnl Premium puts millions of dollars in proprietary data infrastructure, combined with ongoing, rigorous data collection and AI-powered audience building in the hands of your TV advertising and media buying teams.
"On average, you can get a 25% efficiency by using Tunnl Premium's insights," says David Seawright, Tunnl's Chief Revenue Officer. "Say you spend a million dollars on a television campaign informed by Tunnl Premium. You'll get an extra $250,000 worth of value - as if you spent $1.25 million - on your campaign."
But you have to spend money to make money, right? Compared to Tunnl Plus, Tunnl Premium comes with a luxury price tag that may be hard to justify if your budget isn't what it use to be or you don't plan to run targeted linear TV ad campaigns. Choosing the right Tunnl platform tier depends on which features will provide the highest value to your campaigns within your budget.
Designed to enable highly efficient linear TV media planning, placements, and measurement, Tunnl Premium is the exclusive home to the best audience insights and tools for the most serious linear TV advertisers. Let's dig into how all of it could actually impact your bottom line.
How Does Tunnl Premium Assist with Media Planning?
Up-to 25% ad budget efficiency means nothing unless you know how it's achieved. Two ingredients in Tunnl Premium's secret sauce are linear optimization and media mix insights.
Media mixes are not a Tunnl Premium exclusive feature. National insights are available in Tunnl Free, and local media mixes come with Tunnl Plus. But what sends them into overdrive for Tunnl Premium users is combining media mix data with the linear optimization tools available for your selected audiences.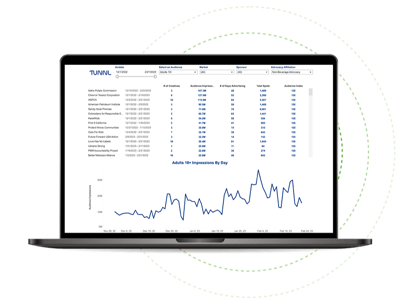 Tunnl Premium shows you:
Overall media consumption and share of media consumption
Social media consumption and share of social media consumption
Streaming media consumption and share of streaming media consumption
Local TV ratings for your audience
Linear broadcast TV ratings for your audience
Cable TV ratings for your audience
You'll know the platforms and channels that make up your audiences' screen time, including how much of their valuable time is divided between their favorite TV and digital spaces.
The gist is this: When you know where, how, and how often your audience is consuming media - down to a network, daypart, and platform level - you can precisely plan your media buys to achieve maximum reach efficiency and impact.
The money you save on strategic linear TV ad placements and smarter media planning contributes to the cost of Tunnl Premium, queuing you up for net-neutral investment in the high-powered platform tier over time.
But media planning only accounts for one-half of your advertising process. What about optimizing in-progress and ongoing TV ad campaigns?
How Does Tunnl Premium Improve Reach Efficiency for Linear TV Advertising?
A well-planned linear TV ad campaign will have better reach efficiency than one built on guesses or demographics alone, so any Tunnl platform tier will improve your campaigns. But the media measurement features in Tunnl Premium unlock another layer of optimization methodology altogether.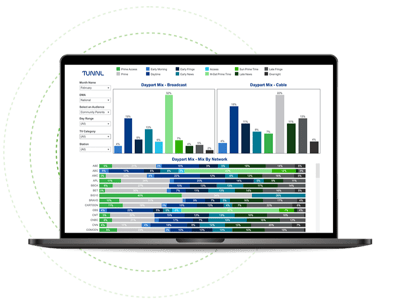 There are two types of media measurement you can do in Tunnl Premium:
Paid Media Measurement - measure the impact of paid advertising - yours, your allies, and your competitors' - against your target audience(s).


Earned Media Measurement - measure the impact of non-paid media efforts including media hits or interviews related to a specific topic, to see how it is being talked about overall.
Think of media measurement as your advertising crystal ball. It reveals:
What your adversaries and allies are talking about.
Which programs are mentioning topics pertinent to your campaigns.
The competing media your target audience is seeing.
"Marrying our optimization solutions with our paid media measurement tools, TV advertisers can build an end-to-end optimized campaign," says David Seawright, Tunnl's Chief Revenue Officer. "What I mean by that is you use the linear optimization solution to build the most efficient campaign upfront, and then you use the paid media solution to optimize your ongoing campaign."
Within Tunnl Premium, you can watch the clips where your industry, issue, or organization is mentioned, giving you a direct look at the media ecosystem you're competing in.
There are several ways we've seen clients apply these insights, but here are a few examples:
Using Media Measurement for Crisis & Reputation Management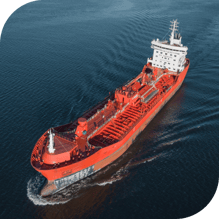 You're a major oil company that recently experienced a minor spill offshore. The media has picked up the story, and you're nervous about how the incident is being covered. You hop into Tunnl Premium and pull up the earned media measurement tool to watch clips of news coverage mentioning your company. You're paying particular attention to the stations an environmentally-conscious slice of your audience prefers (which you identified through the platform's program-level TV ratings). Knowing what they know, you pull together linear TV ads and a press release to address their concerns head-on.
Using Media Measurement for Competitor Research
You're a national pharmacy brand planning a major ad push. It's focused on sun safety, a way to keep your customers safe while becoming the go-to provider for sunscreen, sunglasses, aloe, and beach umbrellas. But before you start spending your TV ad budget,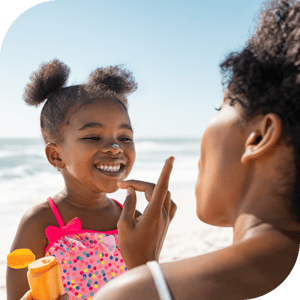 you need to know what your target audience is already seeing from local competitors who are trying to corner the summer fun market too. Using the paid media measurement tool in Tunnl Premium, you check out your competitors' ads to get a better idea of what you need to do to compete and ensure your ads are the ones your audience remembers.
"You're not just finding the best place to reach the people you care about; you're finding the best place to compete with competitors in the market who are also trying to influence those same people," says Seawright. "And so it's not just one-and-done optimization; there are ongoing optimization opportunities based on your advertising environment."
Using Media Measurement to Track Cause Awareness
You're working on a cause marketing campaign with several allies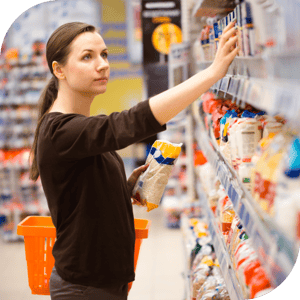 spanning corporate brands and public affairs organizations. The goal: educate citizens on SNAP benefits - what they are, who receives them, why they matter - ahead of a critical vote to reduce SNAP benefits nationwide. You use Tunnl Premium's paid and earned media measurement tools to see how effective your collective marketing efforts have been in drumming up buzz around the topic of SNAP benefits, particularly on the TV channels where your target audience consumes media often.
The more you know about the ecosystem your ads exist in, the more accurate your audience-based ad campaigns can be, giving you another layer of savings and budget maximization that's exclusive to Tunnl Premium users.
Is Tunnl Premium Worth It for Your Campaigns?
You may not need the top-tier media planning and campaign optimization features available in Tunnl Premium. Check out our other two audience intelligence platform tiers to be sure - Tunnl Free and Tunnl Plus.
And any audience intelligence solution could fall squarely in your nice-to-have bucket as an idea to return to when your budget allows.
But if you're looking for pinpoint-accurate audience insights that maximize reach efficiency and optimize linear TV ad spend to an additional 25% impact, the monthly $10,000 you spend on Tunnl Premium may quickly become a must-have. The cost pales compared to the savings and resonance you stand to achieve.
With Tunnl Premium, you get what you pay for and then some: Millions of dollars in proprietary data infrastructure that securely gathers, maintains, and transports the audience insights you need to plan TV campaigns that reach the right audience as efficiently as possible.
A premium audience intelligence platform subscription may be a want right now, but it could be a tool you never want to work without once you give it a try.