Tunnl | Products | Audiences | Platform
Political Advertisers, Meet Your New Hispanic Audience Intelligence Solution

Unlocking the potential of the U.S. Hispanic voter base has never been more critical, and the possibilities are infinite. Until now, Hispanic audience intelligence has been limited, leaving countless voters unheard and untapped in the electoral process.
Recognizing the vast potential that lies within this demographic, Tunnl and TelevisaUnivision partnered to build VAMOS, a game-changing solution for Hispanic audience intelligence based on top-of-mind issues in America. Today, we are thrilled to announce that VAMOS is live and accessible inside the Tunnl platform–for free.
In this article, we'll delve into VAMOS' capabilities and explore how it can supercharge your political campaigns, providing you with the issue-based audience intelligence for U.S. Hispanics you need to make a lasting impact with America's fastest-growing electorate.
Get ready to transform how you connect with U.S. Hispanics and elevate your campaign results to unprecedented heights. The future of political outreach has arrived with VAMOS.
What is VAMOS?
VAMOS is the premier audience intelligence solution for political advertisers targeting U.S. Hispanics. It provides unparalleled insights into this underrepresented group's perspectives on critical issues in America, including demographic breakdowns of who holds these opinions, and insights into the most effective ways to reach each segment.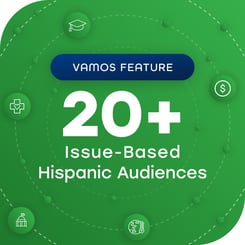 20+ prebuilt audiences are meticulously curated around today's most pressing issues including border security, gun control, and abortion, enabling you to build trust with your Hispanic audience by communicating with them on the issues they care about, making it more likely they'll vote.
In-depth insights into demographics and media consumption behaviors accompany every audience, visualized beautifully by interactive analysis modules that paint a clear picture of who your audience is and where and when to connect with them.
The data that informs VAMOS audiences and insights is from the most comprehensive and accurate library in the industry, putting millions of dollars of proprietary survey data and AI audience modeling into users' hands.
VAMOS is here to revolutionize the way you engage with the U.S. Hispanic voter base. In the next section, we'll show you how to access it to begin connecting more effectively with this vital demographic right away–for free.
How to Start Using VAMOS, Hispanic Audience
Intelligence

Your gateway to VAMOS and free audience intelligence for U.S. Hispanics is the Tunnl platform. Click the button below to be transported to the platform, where you can log in or sign up for your free Tunnl account.
Once you're signed in, you'll see a VAMOS tile on your home screen. Click it, and you'll find all the audiences, insights, and tools for reaching US Hispanics that we will cover in this article.
You'll hit the ground running with accurate, instant issue-based Hispanic voter outreach from there.
5 Hispanic Audience Intelligence Features in VAMOS
Here's a preview of what you'll see when you log in:
1. 20+ Prebuilt Hispanic Audiences
Reach Hispanic adults on the issues they care about right now, including:
Inflation
Abortion
Border security
Climate change

Taxes
Gun control
Student loan cancellation
And more
2. Clear Demographic and Geographic Insights
Learn more about the Hispanic voters prioritizing critical election issues, including where they live and breakdowns of age, sex, income, education, political party, and more.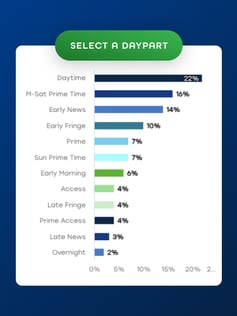 3. Multi-Channel National Media Mix Insights
Identify where your target Hispanic audiences consume media most often to place more efficient ad buys.
4. Comprehensive Linear TV Ratings Dashboards
Understand precisely which linear TV programs your Hispanic issue-based audience is watching, including station and daypart.
5. Seamless Audience Data Transfer for Digital and Linear TV Buys
Buy against your VAMOS audience data in your digital and linear TV platforms for seamless cross-screen buys using these two convenient features:
Audience Activation, an integrated feature to push your VAMOS data to your digital platforms

TelevisaUnivision and Entravision rate card matching for consistently advertising against VAMOS data on linear TV
Bonus: Unlock Additional Features with Tunnl Plus and Tunnl Premium
Your Hispanic audience targeting capabilities amplify when you subscribe to Tunnl Plus or Tunnl Premium, Tunnl's advanced audience intelligence platform tiers.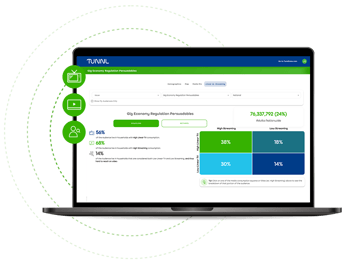 In addition to all the free VAMOS features in this article, as a Tunnl Plus or Premium subscriber, you can:
Build Your Own Hispanic Audiences in minutes, combining multiple issues, geographies, and customizable demographic parameters in the self-service Audience Builder to reach your core audience, fast.
Compare Viewership Habits across TV formats with linear vs. streaming TV matrices for your VAMOS audiences.
Analyze Local Media Mix Insights to identify how local segments of your Hispanic audiences consume media for more effective local campaigns.
More audience intelligence tools and audiences come together to enhance your VAMOS experience in Tunnl Plus and Tunnl Premium. Learn more about both platform tiers in our article, "Which Tunnl Platform Tier is Best for You & Your Campaigns?"
VAMOS is live now and free to use, with ready-to-activate audiences waiting for you. Click the button below to log in or sign up for your free Tunnl account, where a VAMOS tile will take you to the Hispanic audience intelligence tools and insights you need to reach your target audiences, fast.