Tunnl | Products | Audiences | Platform
How Tunnl's Audience Intelligence Platform Fits Into Your Budget

On average, advertisers and agencies achieve a 25% boost in campaign reach efficiency with Tunnl's audience intelligence platform.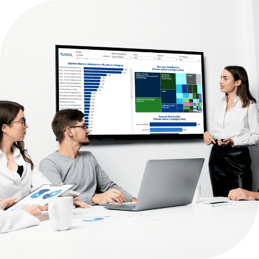 You understand how Tunnl can help your organization reach its goals, but you need to show its value to internal decision-makers to secure the investment in the best audience intelligence platform for public affairs, cause, and purpose-driven advertising.

The bottom line: The results that Tunnl's audience intelligence platform will generate for your organization will vastly exceed your investment.
This article will give you the talking points and figures you need to secure the budget for Tunnl's audience intelligence platform and achieve the results you've been looking for.
Key Points to Include in Your Internal Pitch

Tunnl clients gain millions of dollars in budget savings and efficiency improvements annually.

Earned media measurement tools proactively alleviate the cost of negative PR by enabling you to monitor your brand reputation.

Paid media measurement tools help you prove your ROI in Tunnl by tracking your campaign ads' reach and impact on your audience compared to competitors' and allies'.

Linear TV advertisers who use Tunnl's audience intelligence platform gain an average efficiency of 25%.
How to Prove Tunnl's ROI in Your Budget Proposal
The clients that have gotten the most out of their Tunnl investment are the ones that have brought us into the earliest stages of planning their campaigns. The sooner you involve Tunnl in your campaign strategy, the more ROI you're likely to see.
"The earlier we're in the room, the more consultative we can be about ways to build out your audience data and targeting plan and we are able to do that in alignment with your other partners; your agency, the team that's making your creative, and the media buyers that are doing your placement," says Adam McInturff, Director, Business Development at Tunnl.

"Early strategic alignment with us infuses all of your campaign decisions with our peerless audience intelligence, yielding maximum results for your campaigns."
Keep reading for the top three ways to prove the value of Tunnl's audience intelligence platform for your organization, secure budget for the investment, and bring Tunnl to your campaign planning table from the very beginning.
Top 3 Ways to Show the Value of Tunnl's Audience Intelligence Platform for Your Organization
#1 Maximized Impact
Advertisers waste millions of dollars every year reaching the wrong people. Spending your money on people who are not core to your cause dilutes your campaign's impact.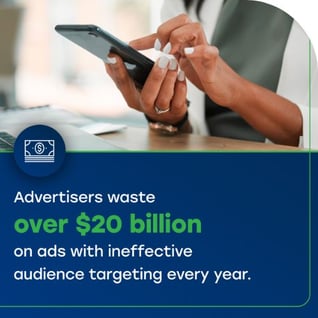 Tunnl's audience intelligence platform enables your campaign ads to reach the maximum amount of your target audience, bringing awareness of your message to all of the right people.
The data library that informs every insight Tunnl delivers is the largest and most accurate in the industry, ensuring:
Improved ad delivery to your target audience
Minimal impressions from people outside your target audience
Maximized impact on your target audience
"I urge clients to think of us like the electrolyte powder that people add to water," says Adam.

"Sure, you'll slowly become more hydrated by drinking water on its own, but adding the electrolytes hydrates you better and faster. Our audiences and software work the same way - we're an accelerant that drives magnified results for your campaign."
#2 Improved Efficiency
Campaign efficiency is measured by comparing how much you spend on your campaign to the impact your campaign makes.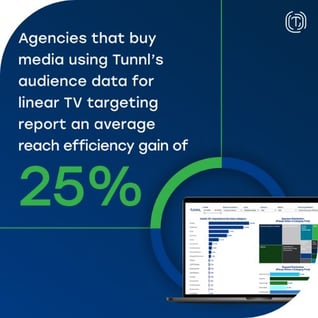 The insights delivered by Tunnl's audience intelligence platform improve your campaigns' reach efficiency by minimizing how much you have to spend to make the maximum impact on your target audience.
Our linear optimization data produces an average efficiency gain of 25% for linear TV advertisers.
"On average, you can gain 25% efficiency by using Tunnl's linear TV insights," says Elise Lewis, Tunnl's Chief Product Officer.
"Say you spend a million dollars on a linear TV campaign informed by Tunnl. You'll get an extra $250,000 worth of value as if you spent $1.25 million on your campaign."
With an average 25% reach efficiency gain from Tunnl's audience insights, you can:
Absorb the saved costs
Roll savings back into your campaign to increase your reach
Deliver better results at lower prices for your clients
That's how your investment in Tunnl can pay for itself - even with just one campaign.
#3 Proactive Brand Reputation Management
More than ever before, buyers are choosing where they spend their money based on brand reputation.
But the only opinions that matter are the opinions of your target audience. With Tunnl's media measurement suite, you always know what your target audience sees, hears, and thinks about your brand and can track how their perception of your brand changes over time.
Tunnl's earned media measurement suite keeps you aware of threats to your brand reputation, enabling you to optimize your messaging strategy over time based on your audience's reception of your campaign ads:
Tracking what your target audience hears about you, your competitors, and your allies on linear TV
Recording clips of earned media mentions on linear TV for you to watch and analyze
Monitoring changes in how frequently you, your industry, or your issue are mentioned on linear TV
Measuring changes in impression volume for your brand, industry, issue, or topic
Our paid media measurement suite works the same way, but for the paid ads your audience sees from you, your competitors, and your allies, including:
Where and how often your linear TV ads reach your target audience
Estimates of how much other organizations are spending on linear TV ads to reach your target audience
Recorded clips of the creative used in the paid ads your target audience sees on linear TV
Changes in impression volume, market distribution, and issue distribution for linear TV over time
Movement studies by Tunnl enable you to track how your target audience's perception of your brand changes over time. This is a particularly helpful study to conduct when running sensitive, issue-based campaigns that could come off as polarizing to your audience. Monitor the counts between a set of audiences based on brand favorability to ensure the percentage of your target audience who favors your brand always surpasses the percentage who doesn't.
"Public affairs and advocacy advertisers often need to influence, mobilize, and persuade the very hard-to-reach individuals who impact the direction of legislation and public conversation around their issues," says Adam.

"But how do you really know your ads are working? Tunnl provides an objective scoreboard for how well your paid and earned media is influencing members within your target audience, so there's no question about how effective your ad dollars have been in achieving your goals."
Maximize Your Impact with the Audience Intelligence Platform That Pays for Itself, Tunnl
You already understand the game-changing value that Tunnl can deliver to your organization. With the talking points presented in this article, you can prove it to your internal decision-makers.
Your investment in Tunnl will pale in comparison to the campaign results and efficiency gains it will deliver. Tunnl's audience intelligence platform empowers you to make your smartest decisions, bridging the gap between maximum impact and minimum spend.
And with our peerless suite of media measurement solutions, you can track it all.
Tunnl eliminates assumptions and guesswork, putting accurate data and clear insights into your hands about who your audience is, how you can best reach them, how they feel about your campaign issues, and how they perceive your brand. With your blind spots eliminated, you'll know just what to do to achieve highly optimized, precisely targeted campaigns that improve and preserve your brand reputation.
With the returns you'll get on your investment in Tunnl's audience intelligence platform, it'll become an indispensable decision-making tool for your organization. Talk to our sales team to start seeing results that speak for themselves.