What is Tunnl's Opinion Makers Audience? Definitions and Use Cases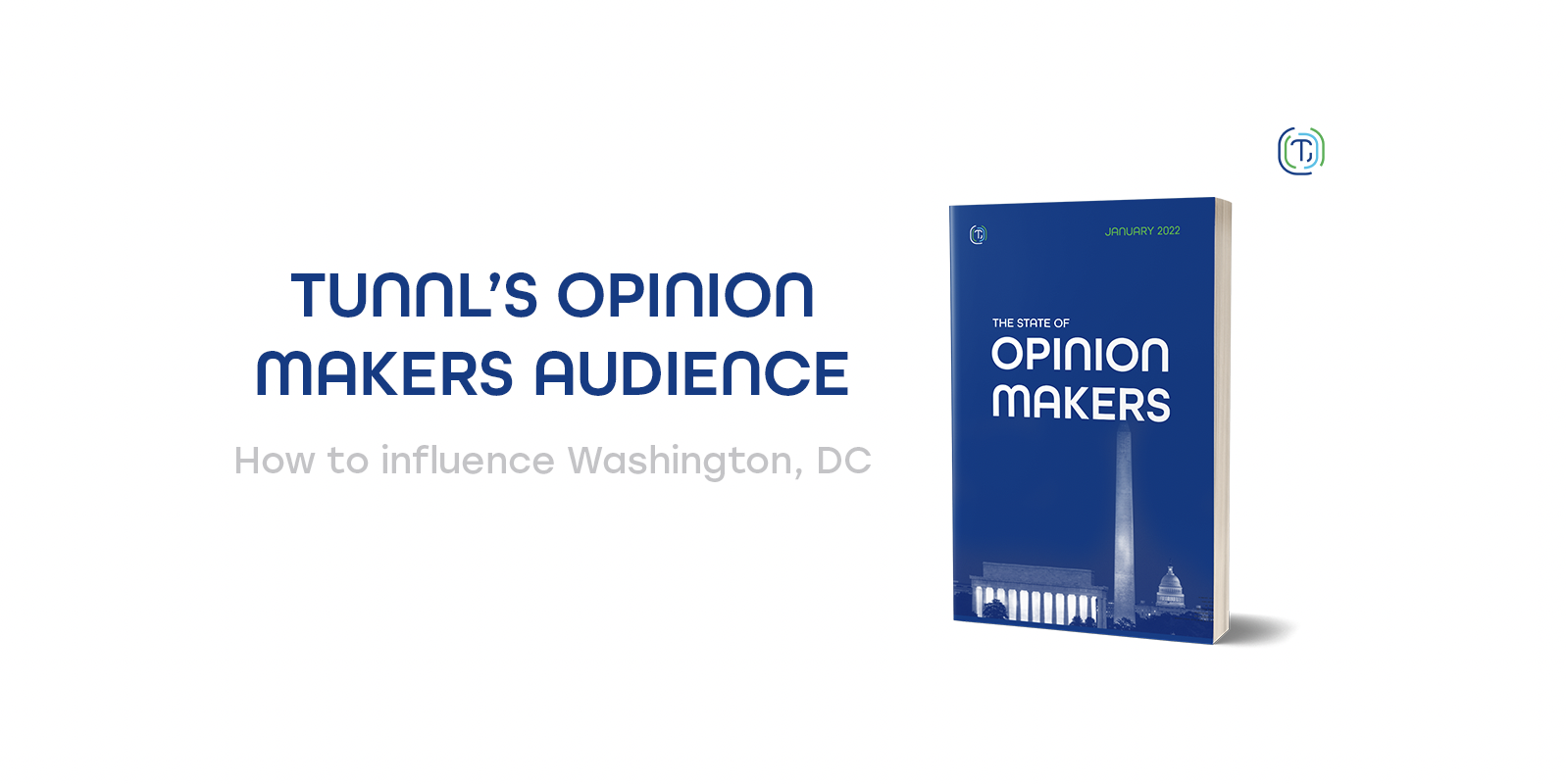 You have run into a problem. You have an issue or cause that you need to get in front of the right people. Your message needs to influence the top opinion-makers of Washington, DC. However, your problem is that you have no idea how to reach them.
This is not a problem exclusive to you.
At Tunnl, we have worked with hundreds of clients who have faced the same problem you have. They needed to connect with opinion-makers, the people with influence over Washington, DC, not just the general public, but they had no way to do it.
So, we created the Opinion Makers Audience.
What is the Opinion Makers Audience? Is it a good fit for you? When would you use it? How is it made? What can you do with it? How does it help you?
We're going to answer those questions -- and more -- in this article.
What is Tunnl's Opinion Makers Audience?
Whether you are trying to run a successful campaign for a ballot initiative or you are trying to increase awareness for your non-profit's mission, at the end of the day you are trying to influence public opinion. What if you could influence people who are opinion makers and then, in turn, they could use their natural influence over their audience to further spread your message?
At Tunnl, we thought the same thing. We have created an audience of Opinion Makers that consists of a hand-curated list of over 1.3 million individuals at the highest echelons of influence in Washington, DC. People in this audience include are political and business leaders who work in places such as Congress, the Executive Branch, news media, lobbying, law firms, and associations, combined with the most politically active individuals in the area.
These are the men and women that set the national agenda, have their finger on the pulse of what is happening in America and direct the course of what is going to happen. Opinion Makers are split on partisanship and are more likely than the average American to make over $100k. Almost two-thirds of Opinion Makers are male, the remaining 37% are female.
How was the Opinion Makers Audience made?
This audience was created by the hand and algorithmic matching of business data directly into Tunnl's pre-existing data infrastructure that consists of 100,000,000,000+ data points. This approach allowed us to profile the audience and identify an optimal media mix. Through our integrated partnerships, you can addressably target this audience via advanced TV and online; essentially anywhere addressable targeting is possible.
Why was the Opinion Makers Audience made?
Brands all over the country are competing for people's attention so they can help make change happen.
Sound familiar?
We recognized that influencing policy leaders in Washington and across the country was a critically important piece to many campaigns. We built an innovative solution for those looking to impact those at the highest echelon of influence while retaining scalability.
The Opinion Makers Audience in Action
There are many different scenarios in which the Opinion Makers Audience can be utilized. Below, we highlight two of the most common use cases for the Opinion Makers Audience:
Targeted communication
Media planning and measuring


Targeting the Opinion Makers Audience
Pretend you are a trade association that represents the automotive industry. You have a heavy interest in getting Congress to pass the latest version of the Infrastructure Bill. How do you communicate the benefits the bill would have on your industry? How can you get in front of the right influencers and decision-makers?
This is a perfect opportunity to target your message using the Opinion Makers audience. It is a way to get your message to reach and impact the who's who of Washington Influence
Utilizing Media Optimization and Media Measurement with the Opinion Makers Audience
Now, pretend you are an environmental group that is running ad flights about the destruction of the climate. Your goal is to get the federal government to change environmental regulations. How do you know if the right people are seeing your ads? How are they being impacted? Are people on the other side of your issue, such as the oil industry, having a greater impact on your audience than you?
These are all great questions that the Opinion Makers audience can help you answer. The audience itself, in combination with Media Optimization, can help you make sure you are placing your ad flight in the most optimal places possible to reach your audience. You can also utilize Paid and Earned Media Measurement to monitor opposition messaging while quantifying the impact they are having on your audience.
Learn More about the Opinion Makers Audience
We mentioned earlier that we refresh the Opinion Makers Audience every quarter but that is not the only thing. Every quarter we also release The State of the Opinion Makers.
The State of Opinion Makers is an easily consumable report that gives you the insight you need to understand what Opinion Makers are thinking.
In this quarterly report, you will get the Opinion Makers' overall outlook on the future direction of the country. You also get insight into their forecasts grouped in four different indicator categories:
Finance
Stability
Policy
Politics
If you are looking to learn more about the audience before using it, the report is a great place to start.
I want to activate the Opinion Makers Audience
The Opinion Makers Audience can be activated on any medium where addressable targeting is available. To activate today, contact Nate Romberg, Tunnl's Senior Director of Partnership Sales. You can reach Nate at nromberg@tunnldata.com.
I need audiences but I do not the Opinion Makers Audience
If you are trying to reach someone besides the movers and shakers of Washington, then you need a different audience. First, you should check our list of over 150+ Pre-Built Audiences to see if your cause or issue is one that we have already made an audience for.
If you do not see your cause or issue on that list, then you probably need a custom audience. To help you figure out if a custom audience is right for you, we put together a list of the pros and cons of a custom audience.