Tunnl | Products | Audiences | Platform
Introducing Tunnl's Premier Audience Suite: Reach the Nation's Top Opinion Makers

Leveraging influencers' communities to amplify your message across your target audience is table stakes for the current public affairs landscape.
Enter Tunnl's Premier Audience Suite, a collection of groundbreaking audience intelligence solutions for maximizing the efficiency of how you reach changemakers across the nation including influencers in U.S. policy, healthcare, finance, and technology.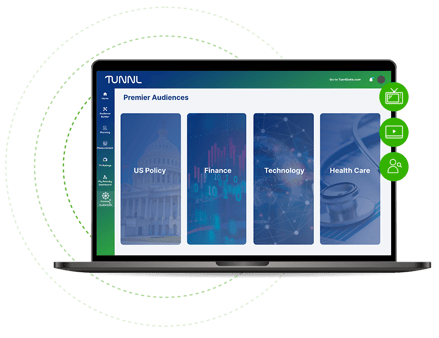 The influencer landscape has shifted dramatically in the past two decades. In that time, Tunnl's leadership team has been innovating the ways public affairs and political advertisers use audience intelligence to reach their target groups. Our solutions help you conquer influencer advertising because we were integral in its rise to prominence in your sector.
We applied our expertise to creating the U.S. Policy Opinion Makers audience, which revolutionizes the way advertisers reach influential policymakers. Based on its resounding success for advertisers, we're expanding your audience intelligence to include the most influential people in other critical industries with the Premier Audience Suite.
You need to connect with the right influencers for your campaigns who can become a trustworthy megaphone for your message among their dedicated following. With the Premier Audience Suite, advertisers reach the most influential figures for their campaign issues within critical spheres of influence. Their reach becomes an accelerant to your campaign, earning you deeper voter trust, priority for your policy agenda, and improvements to the reputation of your organization or issue.
Talk to our team about leveraging Tunnl's Premier Audience Suite for your campaigns, or keep reading to get acquainted with the audience intelligence solutions it'll add to your marketing toolbox.
How to Reach America's Influentials with Tunnl's Premier Audience Suite
The Premier Audience Suite is a premium audience intelligence solution available in the Tunnl platform. Users unlock unrivaled insights into the nation's most influential business leaders, policymakers, and figureheads, including their demographics, media consumption habits, and more.
The Premier Audience Suite Includes:
Joining our already sought-after U.S. Policy Opinion Makers audience, the Premier Audience Suite connects advertisers to three new exclusive audiences comprised of VIPs, influencers, and decision-makers in the industries defining America: technology, healthcare, and finance.
Meet the Suite

U.S. Policy Opinion Makers:

Political and business leaders who are influential in shaping policies at all levels. These individuals are senior executives in corporations, or work in places like the United States Congress, state legislatures, the news media, lobbying and law firms, and associations. The most politically active voters across the country are also included in this audience to provide a robust universe of those influencing public policy.

Healthcare Opinion Makers: Healthcare industry influentials including executives across the payer, provider and life sciences sectors, health policy leaders and venture investors focused on healthcare innovation.

Finance Opinion Makers:

Financial industry influentials. This includes leaders in financial institutions, individuals who work in legislative and agency level roles that make policies regulating financial offerings, the Federal Reserve, institutional and venture investors as well as finance focused journalists.

Technology Opinion Makers: Technology industry influentials. This includes leaders in established tech companies, individuals who work in legislative and agency level roles that make policies regulating technology, leaders in emerging technology companies and thought leaders, venture investors focused on technology as well as tech focused journalists.
Reaching the right changemakers for your issues is vital to the success of your campaigns - and made possible by the Premier Audience Suite.
To mobilize influencers as advocates for your issue, you need to know who they are and where to place your media buys to ensure your message is the one that sticks.
A New Analysis Experience

The new Premier Audience Suite expands Tunnl's ecosystem of audience intelligence solutions to enhance your understanding of the influential leaders with the power to amplify your message over the noise:

Occupational breakdowns

deliver an overview of the elite makeup of your Opinion Makers audience.

Demographic majority characteristics

provide a cheat sheet to who the average influencer in your Opinion Makers audience is.

In-depth demographics

visualize the age, sex, education, income, political party, etc. of who is in each sphere of influence.

Media mixes

unpack how Opinion Makers consume media to offer prescriptive insights on where to buy media for the maximum impact on your campaign influencers at minimal spend.
If you need to reach the right influential people in America with your campaigns, you need Tunnl's Premier Audience Suite.
Connect with our sales team to learn how the Premier Audience Suite can help your organization make the smartest decisions yet.