5 Can't-Miss Features in Tunnl Free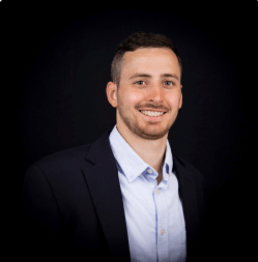 Teddy joined Tunnl in January of 2020 and is currently the Senior Director of Account Management for Agencies.
As the saying goes, the key to successful advertising is reaching the right audience, with the right message, at the right time. To accomplish this, marketers frequently make use of audience insights to understand the real people in their target markets, what matters to them, and how they consume media.
What if there was one, streamlined place you could find all of this information — for free?
Tunnl Free offers all of this information and more on the most top-of-mind audiences today. In this article, we've compiled the best ways advertisers can use Tunnl's audience insights to streamline their processes and get the information they need precisely when they need it.
Keep reading to discover the top ways you can start getting the most out of our audience insights now, whether you have a paid or free Tunnl platform account.
Leverage Audience Insights & Media Mixes In Your Outreach Strategy
Tunnl builds audiences around how Americans feel about today's most important issues, causes, and events. Whether they are for, against, or persuadable on the subject, Tunnl groups people together to help advertisers better understand and engage with their core markets on the topics that matter most to them.
Each Tunnl audience provides the following information:
Count
Geography
Age
Income
Race
Political party
Sex
Education
Marital status
Children in household
Media consumption patterns, including social and streaming
You can view all of these insights for every Tunnl prebuilt audience now, for free, in Tunnl Free.
"Any Tunnl platform user, including free accounts, can access hundreds of Tunnl's prebuilt audiences," says Amanda Beadle, Senior Director of Customer Success at Tunnl. "All of the audience insights across our prebuilt audience library are entirely free to view."
Let's look at an example of accessing audience insights in the audience tab.
Say you need an audience of video game players. After creating your free Tunnl platform account, you log in. You can begin your search directly on the Tunnl platform home page, or click on "Audiences" in the sidebar menu to get to the Audience Search Page.

On the Audience Search Page, you type in "video game." You are then provided with every Tunnl prebuilt audience that has to do with video games.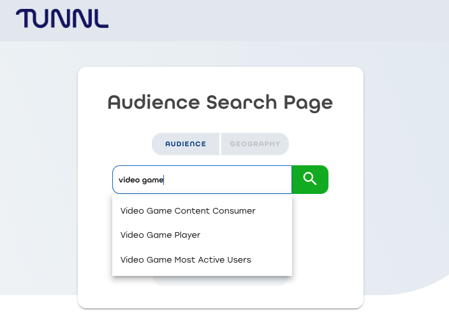 You choose "Video Game Player" as your ideal audience. This directs you to the Video Game Player audience's insights page, where you can view this audience's key insights, including demographic information and media consumption patterns across channels.

All of this information is freely available to view. It is only when you activate that audience that you will be charged a data usage fee. Otherwise, viewing the audience insights in the Tunnl platform is absolutely free of charge.
"Having these audience insights on hand at zero cost is a great resource for any marketing team," says Amanda. "From informing your media buying decisions to strategizing your outreach messaging, these insights are invaluable and cover America's most important audiences today."
Filter Audience Insights by Geography
Tunnl's prebuilt audience insights are provided at a national level by default. However, should you need counts on your prebuilt audience at a more specific geographic level, you can access that information for free in Tunnl Free, as well.
Here's how.
After you select the Tunnl audience that you want to run a campaign against, you will be directed to that audience's insights page. There, you have the option to filter your audience by a specific geography other than national.
The geographical boundaries you can filter your Tunnl audience through are . . .
National
State
City
County
Zip Code
DMA (Designated Market Area)
DMA By State
CD Current Election (Congressional District)
State Senate Current Election
State Legislature Current Election
CD Last Election
State Senate Last Election
State Legislature Last Election
Once you choose a geographical boundary, Tunnl will then provide you with the counts of how many people still fit within your audience and within that geographical boundary.
"If you want to look at the counts of your audience in a particular state or specific legislative district, you can do that in Tunnl Free," says Amanda. "This is helpful for advertisers to understand how many individual people are in their target audience in a specific area."
Slice, Dice, and Layer Audiences for Unique Insights
All Tunnl platform users can access hundreds of prebuilt audiences built on today's most pressing issues and niche groups. But what if you want even deeper, more granular insights on your ideal Tunnl audience — or need to layer multiple audiences together for unique counts, insights, and geographies?
The Advanced Search option within Tunnl Free gives you the opportunity to delve even deeper into your core market.
By layering various Tunnl audiences and geographies, you can gain an even more detailed understanding of the real people you're trying to reach. So, can you layer multiple Tunnl audiences together in Tunnl Free?
Yes, and you can do it at zero cost.

In the Tunnl platform, click "Advanced Search." From there, you can begin executing more complex queries of audience data by overlapping, uniting, and excluding audiences against one another and/or against various geography types.
An overlap identifies people who are in all of the audiences and/or geographies you choose.
An exclusion retains people who are in your target audience or geography while removing those who are also in your excluded audience or geography.
A union identifies people who are in any of your target audiences or geographies.
"You can overlap, exclude, and unite various Tunnl audiences for free using Advanced Search," Amanda confirms. "Doing so gives you a new, distinct audience with counts and new insights that are unique to your needs."

Want to build your own audiences based on demographic filters, TV viewership habits, or a particular geographic radius? These custom audience building features are available in the Audience Builder tool included in Tunnl Plus and Tunnl Premium platform subscriptions.
Download Insights & Activate Audiences In Your Buying Platform of Choice
Once you have found your ideal Tunnl audiences in Tunnl Free, you have options for your next step. You can either download the audience insights as a PDF, and/or activate your audience in your preferred platform.

Both "Download" and "Activate" options are apparent in the green buttons at the top of your audience's insights page.
How to Send Tunnl Audiences to Your Buying Platform of Choice
Once you find your ideal audience within the Tunnl platform, you can send it to your preferred platform by clicking the "Activate" button. You will be prompted to select the partner platform you'd like to use, which Tunnl will then push to your seat.
The platforms we can immediately send audiences to include . . .
Basis
iQM
Simpli.Fi
Social media platforms, including Facebook
StackAdapt
The Trade Desk
Xandr
Yahoo/Verizon
If your preferred platform is not listed, click "Other" in the activation form, then include details in the description box about your preferred platform and where within that platform you'd like your audience data sent. The Tunnl team will take it from there and get back to you within one business day, so you can activate your audience as soon as possible.
Create a Free Tunnl Platform Account to Explore Audience Insights
Identifying and understanding your target audience is key to an effective advertising campaign. Rather than disjointing your efforts across multiple platforms, you can streamline your efforts in the free version of the Tunnl platform.
By following the top ways to use the platform outlined in this article, you maximize your marketing efforts by making smart buying and strategizing decisions informed by audience insights you can access for free.
Start exploring all that Tunnl has to offer by creating a free Tunnl platform account now.
Want a personalized tour of the Tunnl platform? We'd be happy to show you around and answer any questions you may have. Request a tour of the platform today.