What Are DC Policy Opinion Makers' Media Consumption Patterns?

Advertisers who work in public opinion and policy know how quickly and dramatically these sectors can shift. That's why when you need to influence real change, the key people your marketing needs to reach are the ones who can move your message forward where it can be realized into real change: Washington, DC.
What if you could target your messaging to reach only the most influential decision makers in DC and beyond?
Tunnl's DC Policy Opinion Makers audience helps you do just that. This audience is made up of over 1.3 million people at the highest levels of power in the United States, including members of Congress, the Executive Branch, the news media, and lobbying firms.
By targeting those who set the national agenda, your message is more likely to be acted upon by the people who can make a difference.
To help advertisers reach this influential group, we're outlining the key media consumption patterns of the DC Policy Opinion Makers in 2022. By the end of this article, you'll know the best ways to optimize your outreach strategy to help you successfully impact DC's policy makers — and further your mission.
Let's dive in.
DC Policy Opinion Makers Are Consuming Less Media Than the General Public
One of the best ways to reach people through advertising is via digital channels, such as social media, streaming and linear TV, the radio, and more. However, when it comes to those in positions of power in DC, the data is clear: the DC Policy Opinion Makers consume far less media than the general public.
How do we know this?
Media Mix: How Tunnl Calculates Media Patterns
To calculate exactly how much — or how little — Tunnl audiences consume media, we build a media mix, or a particular combination of communication channels that the audience uses and that advertisers can use to reach them.
We build these media mixes from a robust modeled dataset that we derive from our routine, large-sample microtargeting surveys. Observed data is used wherever possible. Currently, the linear broadcast and cable media mixes are built from observed viewership data from smart TVs and set-top boxes.
Learn more about how Tunnl creates audiences and their media insights.
What Is a Media Consumption Index Score?
Tunnl's overall media consumption index is a scale of how an audience consumes media through a particular medium compared to the general public. The scale's baseline is 100, meaning the audience consumes media on that medium at the same rate as the general public.
If a number is higher than 100, it means the audience consumes media more often than the general public. You have a greater chance of reaching your audience on this medium.
If a number is lower than 100, it means the audience consumes media less often than the general public. You will have a more difficult time reaching them on this medium, and would need a more targeted approach to do so.
The DC Policy Opinion Makers' overall media consumption index score is 90, meaning that they do not consume media as often as the general public. Due to the relatively low occurrence of this audience consuming media, marketers are advised to employ a more targeted approach to ensure their message is seen and engaged with.
Which targeted approach you use can be further informed by the media mix insights in the DC Policy Opinion Makers audience.
Mobile streaming and digital are the leading channels through which the Opinion Makers consume media, with scores of 111 and 113, respectively. These scores indicate that although this audience consumes less media as a whole than the general public, they do consume mobile streaming and digital media, such as online shopping and news websites, more often than others.
With this in mind, should advertisers want to reach the Opinion Makers through digital platforms, ad placements in mobile streaming channels and news websites are the most assured ways to ensure this audience sees and engages with your messaging.
Which Streaming Channels Do DC Policy Opinion Makers Watch?
As seen in the Overall Media Consumption Index, the DC Policy Opinion Makers do not stream much TV. However, when they do, it is most likely to watch live sports premium programming.
This can be seen in their streaming media consumption index, where popular streaming channels like Disney+ and Hulu are well under the normal watch times for most Americans. On the other hand, streaming channels that focus on sports, such as ESPN+, are far and away more popular.
To maximize your advertising reach, the best channels to target are . . .
Which Social Media Outlets Do DC Policy Opinion Makers Use?
With an overall social media consumption index score of 81, the DC Policy Opinion Makers are not an audience easily reached through social media.
Perhaps most surprisingly, this group consumes an extremely little amount of Facebook. Advertisers would be well advised to avoid spending marketing dollars attempting to market to this group via the social media giant, and instead focus their efforts elsewhere.
Rather, LinkedIn, TikTok, and Instagram are all more viable channels to target with advertising, as the Opinion Makers are far more likely to use these channels and actually see — and engage with — messaging.
Access Further Insights Into the DC Policy Opinion Makers
When compared to the general population, the DC Policy Opinion Makers consume far less media, making them more difficult to reach with advertising. However, just because they consume less media overall does not mean that they are unreachable.
Advertisers can use the media consumption patterns outlined in this article to inform their outreach strategies, helping to ensure their messaging is actually seen and engaged with by the exact people who can move your cause or issue forward.
For further insights on the most influential decision makers in Washington, DC, access Tunnl's DC Policy Opinion Makers premium audience. Beyond media consumption patterns, this audience includes: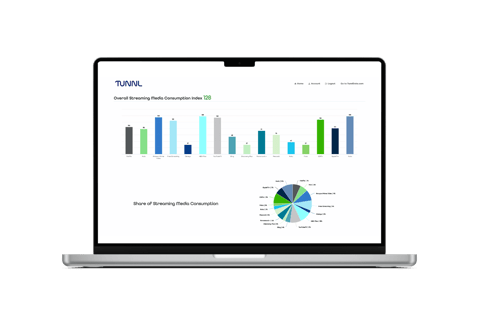 Count
Geography
Age
Income
Race
Political party
Sex
Education
Marital status
Children in household


You may need even deeper insights into how the Opinion Makers feel about the most pressing issues facing the country today. That's why we offer not only our DC Policy Opinion Makers audience, but The State of the Opinion Makers, a quarterly refreshed report that highlights the DC Policy Opinion Makers' perspective on the most important issues of the day and their overall outlook on the current direction of the country.
This easily consumable report provides the insights you need to understand what the most influential decision makers in DC and across the country are thinking about these four indicators:
Finance
Stability
Policy
Politics
If you want to learn more about the DC Policy Opinion Makers audience before using it in your own outreach strategy, this report is a great place to start.